---
For Further Enquiry
Please Contact Us
---
Our Story
Before smartphones were invented, owning a laptop is every child's dream, I was not an exception when I was still a kid. But being born in a lower-middle class family, it took me quite the effort to get what I wanted. If only it was not for my father racking his brain to persuade the shopkeeper to pay with installments, we definitely could not afford a laptop that cost RM3800. It taught me a lot and it was unforgettable looking at my father that stooped and compromised for fulfilling my dream.
Inspired by my childhood experience, my wife Kathleen and I founded Linear Channel Sdn Bhd in 1999 that specialises in refurbishing and selling of preloved computers. I believe that computer with affordable price has huge potential in the market. It was just as how I predicted and our business was a great success. At that time, there were 12 branches in Malaysia.
Making a comeback with the HaaS business model
However, every day is not Sunday, as other computer brands launched affordable laptops (which we could buy it at around RM1500), our business was severely affected and though reluctant, we had no choice but to shrink our business. That said, I have never forgotten those that feed on illusions just like me as a child. Therefore, we patiently waited for our opportunity to get back up on our knees again, fortunately, our hard work paid off. Our company participated in the "Microsoft Unlimited Potential Program" which was under Microsoft Corporation of United States in 2016 for providing laptops at an affordable price of RM60 per month to 100 rural households. Looking at their smiles after finally having the chance to use a laptop made me more determined. Since then, we have adopted Haas (Hardware-as-a-Service, a service provision model for hardware that is defined differently in managed services and grid computing contexts. In managed services, HaaS is similar to licensing. In grid computing, HaaS is a pay-as-you-go solution as our core business model.
The plan above is the prototype of Smart Rental. Today, our business has transformed from refurbishing/ selling preloved computers to a subscription model, which was such a blessing to a lot of smart SMEs and consumers. Although there are affordable computers on the market but behind those prices are non-durable processors/memory, which leads to high maintenance costs in the future. People will be mistaken that there will be no durable and affordable laptops in the world. However, Smart Rental is here to solve the problem and we have successfully fulfilled hopes!
Why buy if you could subscribe?
People used to "buy" over to "subscribe" in general. Apart from being haunted by the ownership mentality, there is a negative impression towards the idea of "subscribing", and even something that others don't want, particularly in the IT field. Whenever we get to see a certain someone/business that kind-heartedly donated computers to schools in the outskirts on a newspaper or magazine, the idea of "those computers are second-hand or cheap" always comes to mind. No one pays from their pocket for brand new and high-end MacBooks to children after all.
Subverting established impressions is one of the missions of Smart Rental. We rent out laptops with i5 business tier-1 processors from major computer brands (Lenovo, Dell, HP, etc.) starting at a monthly fee of RM58. During the subscription period, you don't have to worry about the maintenance of the laptop because it is all covered in our warranty plan. In other words, we have to spend an extra RM2000 for 2-3 years of maintenance fees when we buy a laptop that costs RM3000, and the lifespan of a laptop is usually only about 3 years. However, if you choose to subscribe a laptop (if the RM87 monthly plan is chosen), it only costs RM2088 without any additional maintenance fee within 2 years, and you can even get a laptop upgrade after the 2-years-subscription expires!
Value added for SMEs in the post-pandemic era
The Covid-19 has caused a great impact on the local SMEs. Many businesses have to rack their brain for reducing their operating cost to survive the pandemic. When every employee needs a computer to work from home, the company doesn't need to spend a huge amount of money just to buy more than 10 new computers and there is no need to worry about the high maintenance fee. Our existence is to help solve the urgent needs and cash flow issues.
Companies could also enjoy the following benefits apart from ordering laptops with a preferential price: free replacement, free service, free warranty, free maintenance, free upgrade (terms and conditions apply), and free shipping! In other words, the company that signs up for the package could significantly save up their costs and still ensure the company's operation remains as usual. The company could also invest additional funds in product development or marketing which greatly enhances the company's value. Furthermore, subscribing is more flexible than purchasing for companies as they can end the contract or buy out the laptops at any time based on the current situation.
An unprecedented digital technician appointment platform
We are also developing a new project: a digital technician appointment platform. If there is a problem with the laptop, it could be repaired quickly by simply booking an appointment with our IT technician through the platform instead of going to a computer repair shop and wait for several days to get the laptop back. This project fully corresponds to the fast-paced life of the 21st century, because the cost of time is also an invisible expense that companies have to deal with.
Sustainability strategy is no longer the task of scientists, we need to be involved
Electronic waste is a global environmental disaster, and countries have taken it seriously. According to the forecast of Southeast Asian market size in 2024, the total number of discarded computers will reach RM30.3 billion!
The IT industry also shoulders the relative responsibility to reduce the serious consequences of this knotty problem besides demonstrating the size of the huge market. Smart Rental upholds the belief in the sustainable development of reducing the waste of electronics by buying and renovating quality used computers from global markets and selling/renting them in a new condition. Moreover, the model is highly profitable as it costs only RM1400 to buy a used computer and renovate it.
Strive for equal opportunities for B40
The epidemic has accelerated the transformation of various industries including educational institutions. Online classes have become the mainstream of education, hence, computers have become an indispensable item for students. However, the large B40 group in our country cannot easily afford expensive electronic products, causing children not to be able to obtain equal educational opportunities, resulting in the phenomenon that the learning progress is seriously falling behind their peers.
Smart Rental has never forgotten its mission of "allowing everyone to use a computer". To this end, we will be launching the Sambong Future project that could help the B40 community allowing families in need to enjoy using computers at below-market prices. We believe that Smart Rental can find another way to become an excellent down-to-earth local company, in contrast with major computer manufacturers aiming for multinational corporations/middle-class people.
Smart Rental is unique with 22 years of experience and multiple revenue streams
We have accumulated an abundance of business experience since 1999, standing at the forefront of the times and always ready to adjust our strategy according to the social, political, economic environment. Our diversified income channel from reselling/refurbishing second-hand computers to short-term computer subscription could stand the test of time. As of today, we have successfully sold 100,000 computers through 200 distribution channels.
From February to April of 2020, we successfully raised RM1.33 million by crowdfunding on MyStartr, which far exceeded our original target of RM500,000. This shows that Smart Rental has huge market potential and has attracted 62 investors from different backgrounds to lend us a hand.
Moreover, with a mature business ecosystem and "one-stop" industrial chain, Smart Rental was advanced to the final in Alibaba Cloud Startup Contest of Kuala Lumpur Division in 2019 and won the Golden Bull Award, the highest honor in the small and medium-sized business community in 2020.
We launched an alternative business development program this year. By recruiting agents, we promoted Smart Rental to all walks of life through word-of-mouth marketing and witnessed the first round of success. We successfully recruited 20 agents in just 2 months and we will continue to march towards the goal of 50 agents!
We even recruited the Head of SMEs from Maxis. Although he joined us in June of 2021, he successfully collected contact information of SMEs across Malaysia. This valuable asset allows us to target 2,000-3,000 SMEs as our primary target market for the future.
Our footsteps are not limited to this. Apart from cooperating with ParcelHub, we also plan to set up a Franchise Express Store which will provide convenience for people across Malaysia to sign up for various subscription packages or consult items of interest. This is another source of revenue for us so that our company does not rely on a single channel and ensures that we can increase our profit margins while operating.
As of July 2021, we successfully issued 1,100 lease contracts with a total contract value of RM5.2 million. This shows that our business model has been recognized by the market and will gradually penetrate various market segments. Our goal for this round of crowdfunding campaign is RM4 million. 35% of the proceeds will be used for technology development, 30% for operation capital, 25% for working capital, while the last 10% for marketing.
The information revolution has became reality, especially after the pandemic. Malaysia as a developing country is inevitably caught up in the wave of this technological revolution. Without basic electronics, neither individuals nor enterprises can effectively schedule, let alone SMEs as Malaysia's main economic lifeblood. Smart Rental's innovative business model not only tackels personal worries but also supports the transformation of SMEs so that merchants no longer have to worry about high IT costs.
Our process of starting a business was not all smooth. However, even if the difficulties in front of us seem so difficult to overcome, we managed to stumble over them, and there is still a long way to go in the future. Providing affordable and high-quality IT products is our vision because we believe that everyone should have equal opportunities to move up!
Highlights of our investments
Innovative business model
Smart Rental's "Hardware as a Service"(HaaS) business model is popular and is expected to receive a high degree of attention in the next 5 years (with a CAGR of 26.2%)*. Many big groups such as Amazon, Cisco, and well-known computer manufacturers have adapted the model (such as HP and Lenovo). Our professional management team regularly reviews and adapts the business model to keep abreast of market trends (*Source: Business Insider).
Mature business model
The highest record of our annual revenue was set as much as RM7 million before launching Smart Rental. As of today, we have sold over 100,000 refurnished computers through 200 distributors and cooperated with 12 banks to provide customers with simple payment packages. Our diverse revenue streams include resale/refurbishment of used computers and short-term computer subscription, and the "one-stop" industrial chain is demonstrating our extensive market experience.
A solid source of customers
Smart Rental works with KPUNB to provide zero-prepaid deposit services to civil servants and GLC staff. Furthermore, we also signed a memorandum of understanding with the cooperative alliance Angkasa to allow its affiliates to promote our services and earn commissions. The public and private sectors combined into a large number of cooperative members (up to tens of thousands) which allows us not only to become a leader in IT services of the private sector but also to enter the civil service to form a stable source of customers.
The right market positioning
Our peers generally serve only large enterprises or government agencies with large budgets, so Smart Rental can fill the gap in the market. Services that we provide not only meet the needs of people from all walks of life but also provide services for enterprises of all sizes. As people are forced to stay at home because of the pandemic, the surge in computer demand in 2020 (12.9 percent growth rate) continues into 2021 (estimated growth rate of 18.2 percent)*, and our market positioning is just right for the huge B40 consumer and SMEs that want to get electronic products at more affordable prices (*Source: IDC).
Financing through a well-known domestic crowdfunding website,

MyStartr
We successfully raised RM1.33 million on MyStartr from February to April 2020, which far exceeded our original target of RM500,000. We did not even have a single subscriber before this financing. However, thanks to the trust of 62 investors, we immediately implemented all the original plans after raising the funds and successfully obtained more than 1,000 subscribers in less than a year! After gaining a foothold in Malaysia, we will be targeting the Southeast Asian market to become the region's leading "Hardware-as-a-Service" (HaaS) supplier.
The combination of computer refurbishment and subscription has proven to be a high-growth, high-margin business model
Our stocking costs are as follows: buy a second-hand laptop at RM1,000 and replace it with a new appearance of RM400, which is equal to the total stock value of RM1,400. After that, we rent out RM78 per month for another 24 months, plus the second lease will be RM48 per month x 24 months. We will receive a total income of RM3,024 before the computer retires. Excluding 20% of the cost of sales and RM1,400 of the stocking costs, the net revenue of a computer is RM1,020, which is a gross margin of 33.7%!
Affordable subscription package
Smart Rental provides 12-24 months of computer subscription packages with the different price range that includes the following services: the right to use the laptop, periodic maintenance and software upgrade, repairs and replacement, and free model upgrades with contract renewal. Our customers can save 37% on computer purchases and 55% on maintenance service fees on average.
Buy Now Pay Later benefits give customers a peace of mind
Our customers can enjoy the convenience brought by network automation. We have successfully developed a complete monthly periodic payment system that allows users to make online payments by credit card, debit card, or FPX through a simple program. Moreover, we are also cooperating with the IOUpay platform so that customers can enjoy the benefits of subscribing before paying. In other words, we won't face cash flow problems because IOUpay has helped cash-strapped customers with financial burdens.
The franchise can be issued under conditions
We have passed the review by the Malaysian Ministry of Domestic Trade and Consumer Affairs and obtained a national license for the issuance of franchise rights in April 2021. We will be able to dramatically increase our market exposure once we start recruiting direct-selling agents, making the 3S center not only a traditional commercial store but also a co-working space for the new generation.
Cooperation with a well-known domestic transport company, ParcelHub
Our business is not limited online. Through our partnership agreement with ParcelHub, we have established 233 service centers throughout the country. Customers can go to their nearest ParcelHub store any time to sign up for a computer or make an inquiry about supporting facilities. It can also be used as a marketing channel to allow visitors to make contact with us.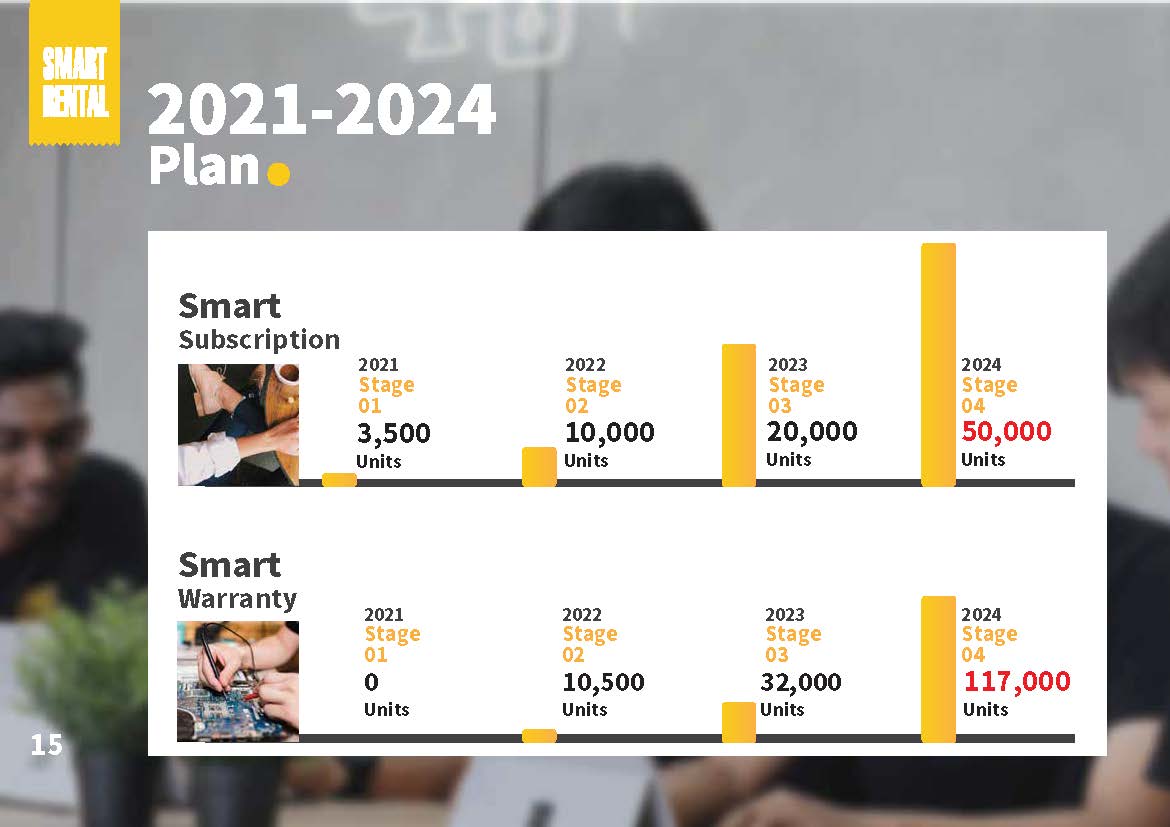 Now you have read the end part of our story, it implies that you have a strong confidence on our business prospects. So what are you waiting for? Opportunities are always reserved for those who are prepared. Follow where your heart goes and join our big family together!
---
Website: https://smartrental.asia/main/
Facebook: https://www.facebook.com/SmartRental.JustRentIt
Instagram: https://www.instagram.com/smartrental.asia/
Whatsapp: Contact us
---
Term Sheet
---
For Further Enquiry
Please Contact Us
---
Investment Packages
---
Corporate Structure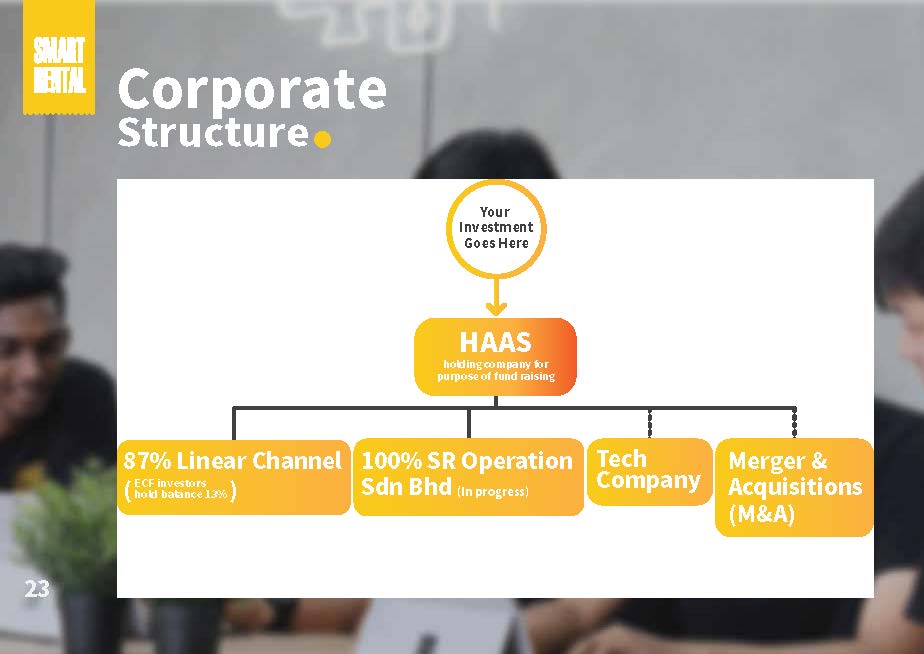 ---
Core Team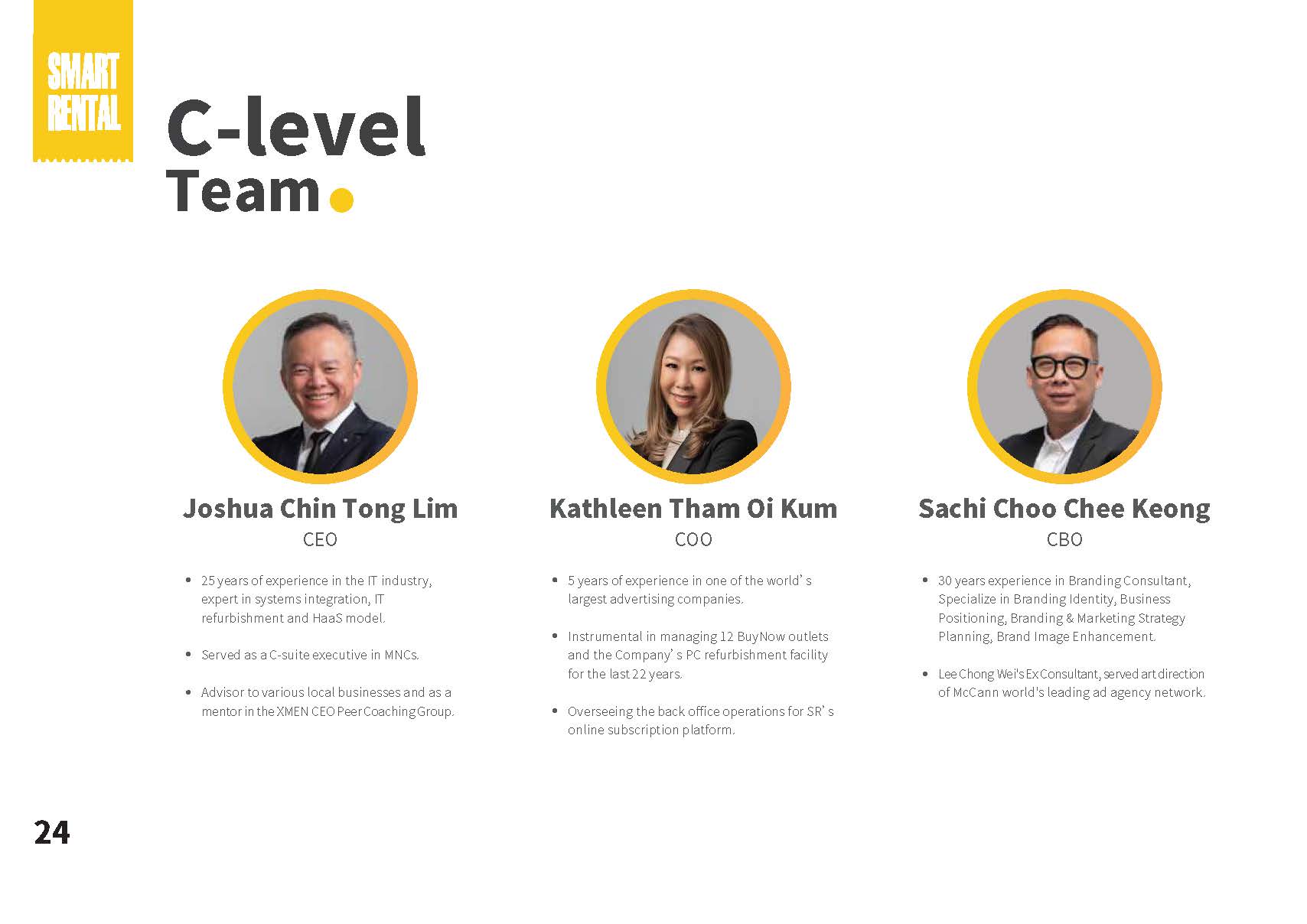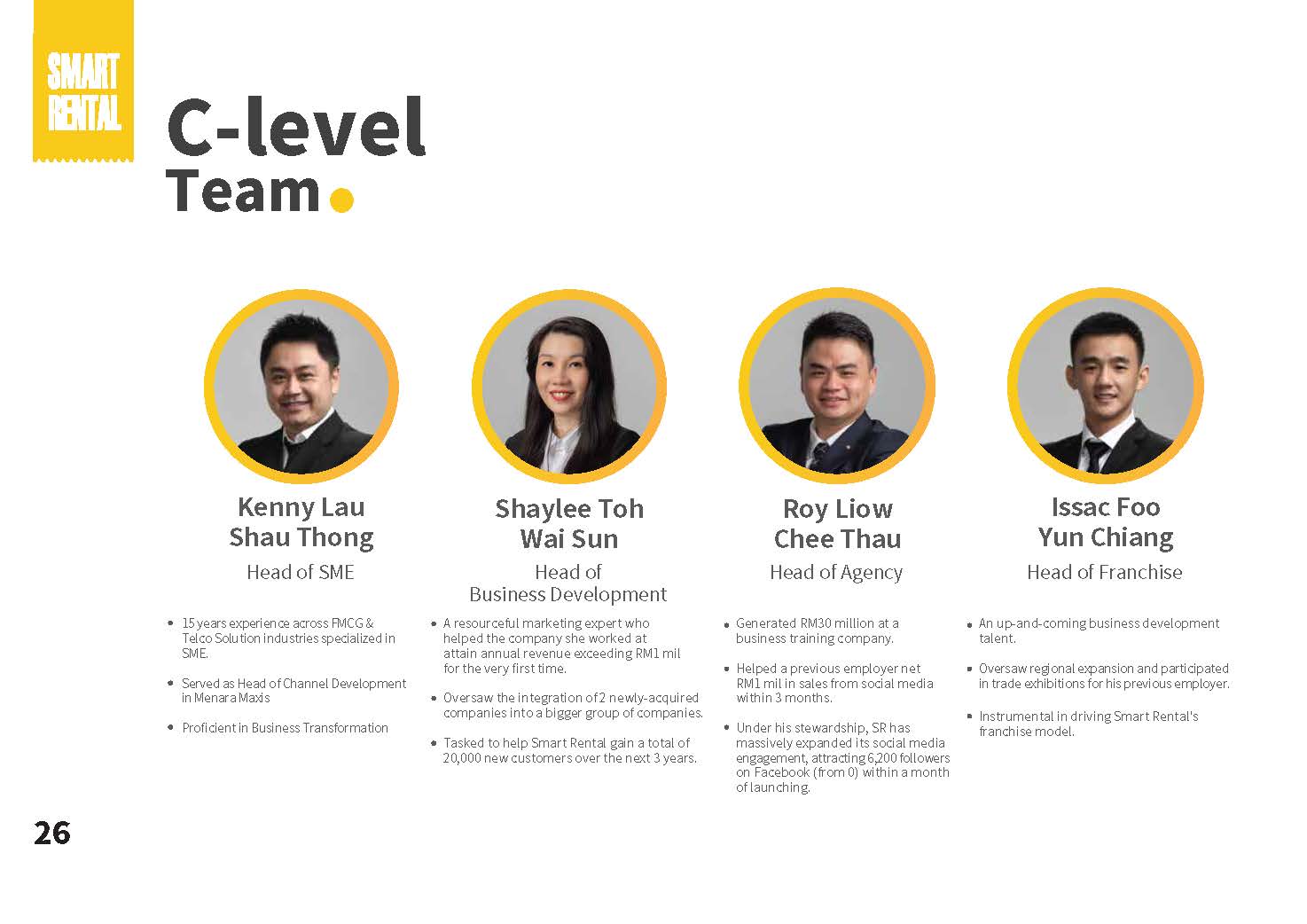 ---
Founder's Pitch Deck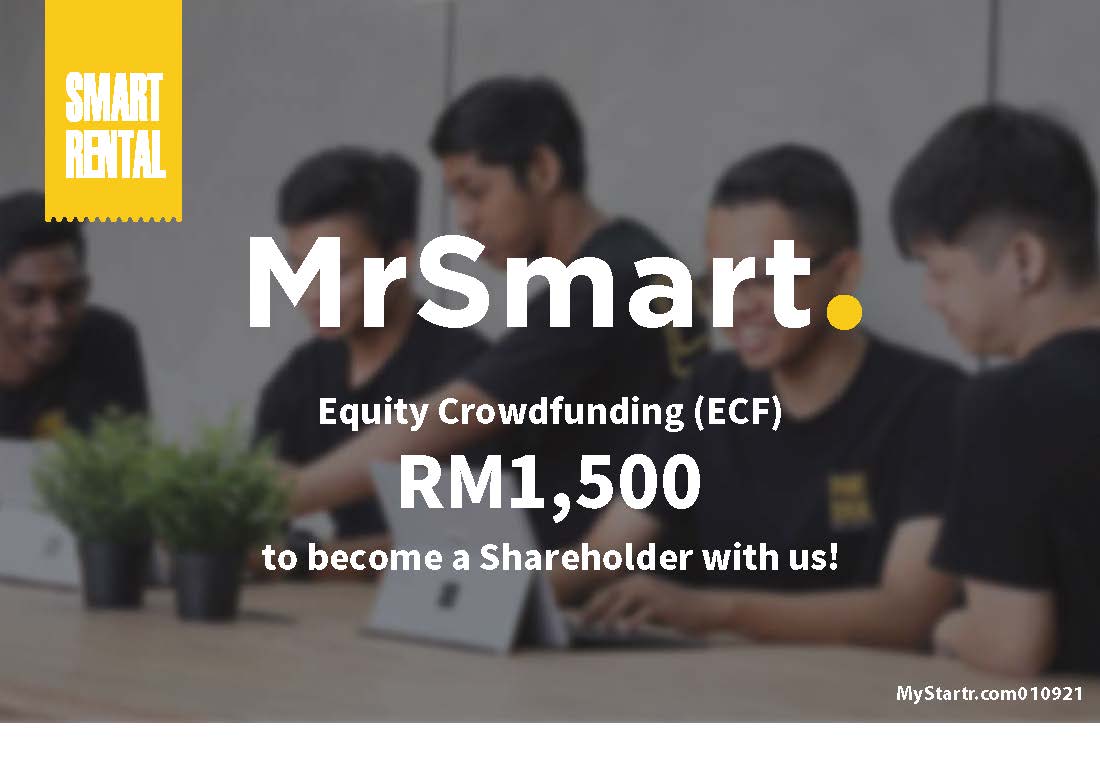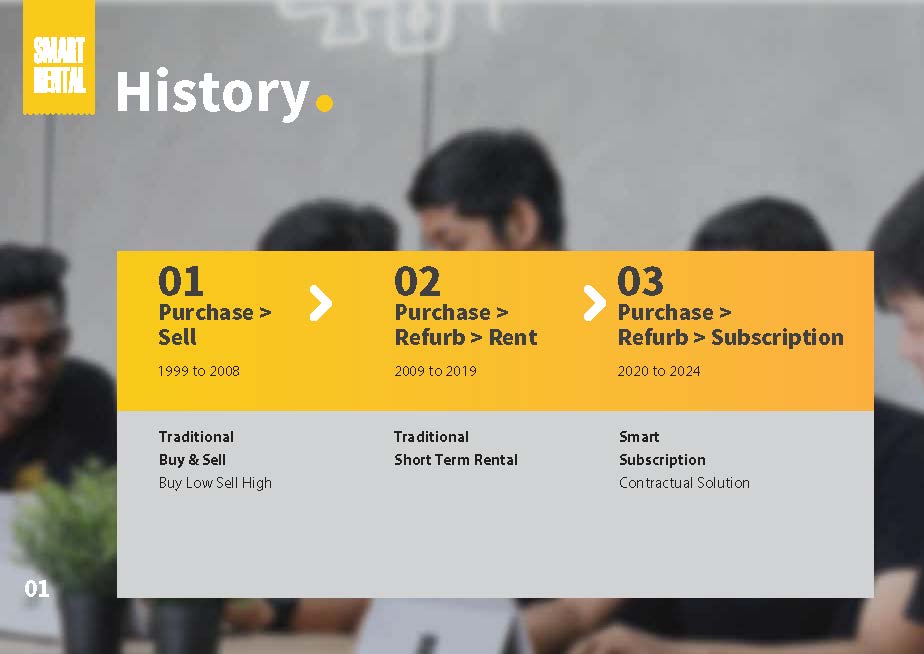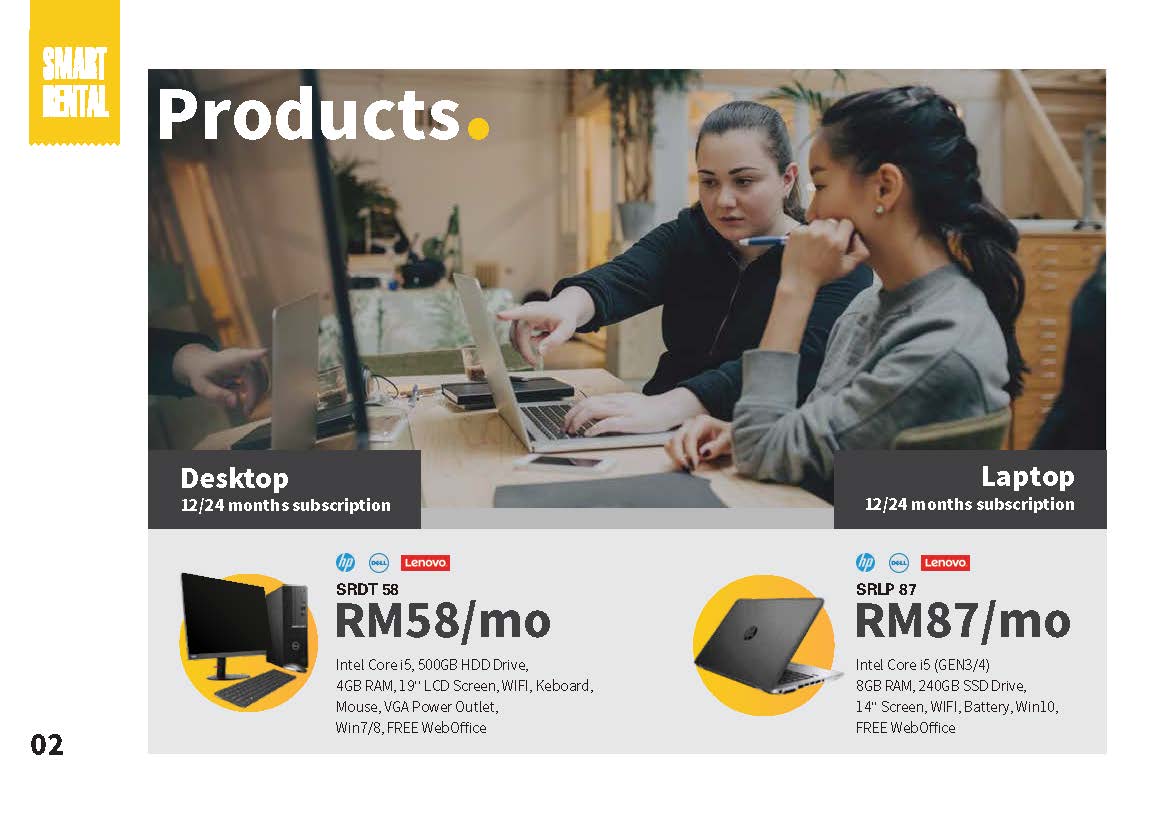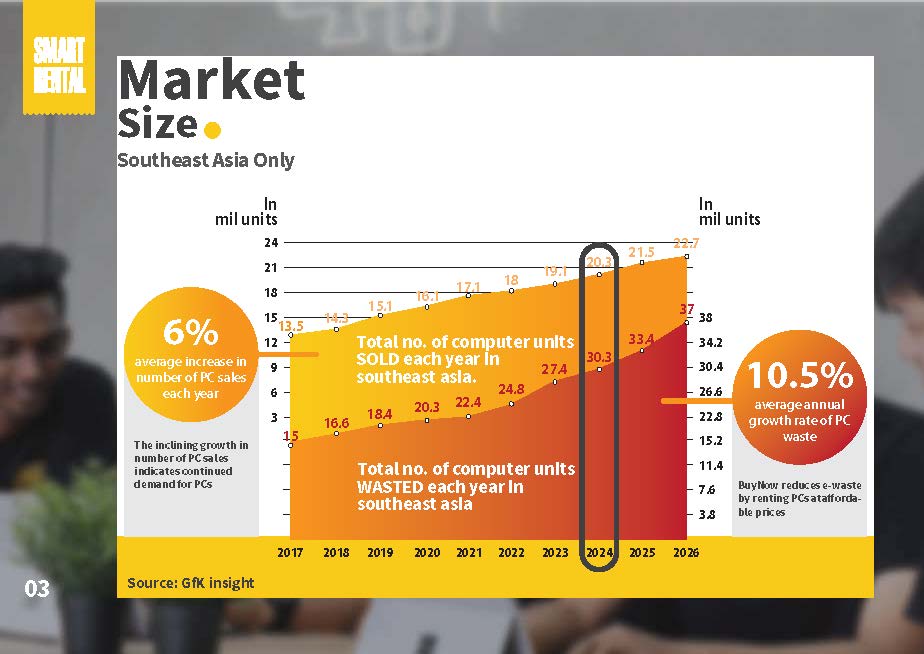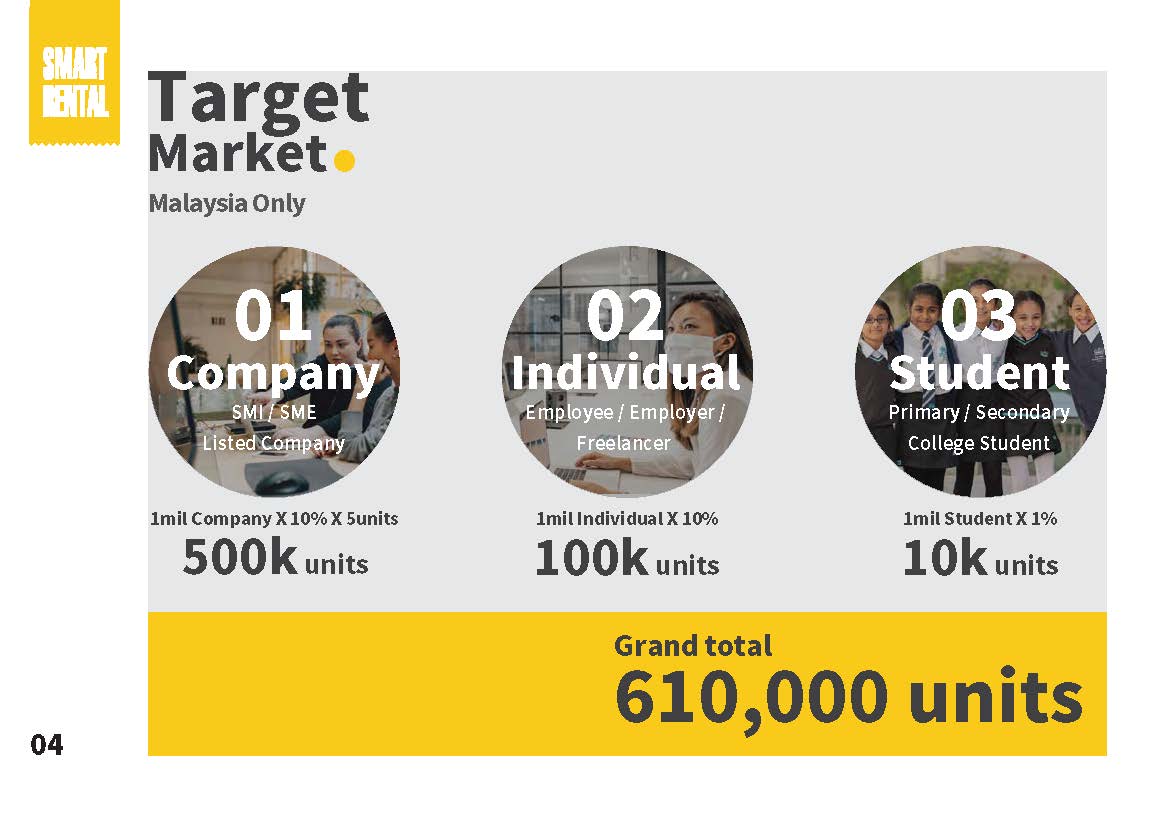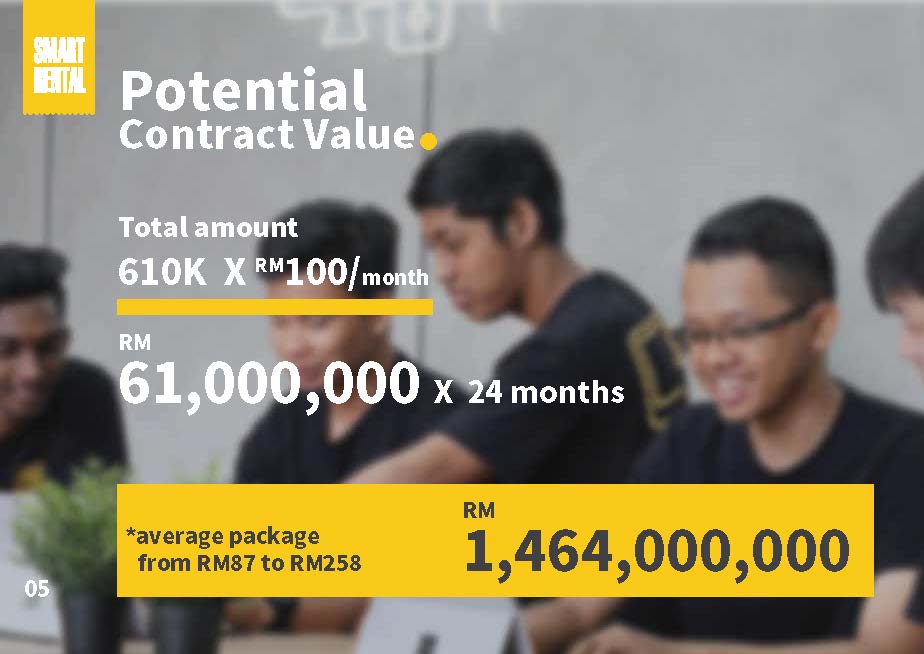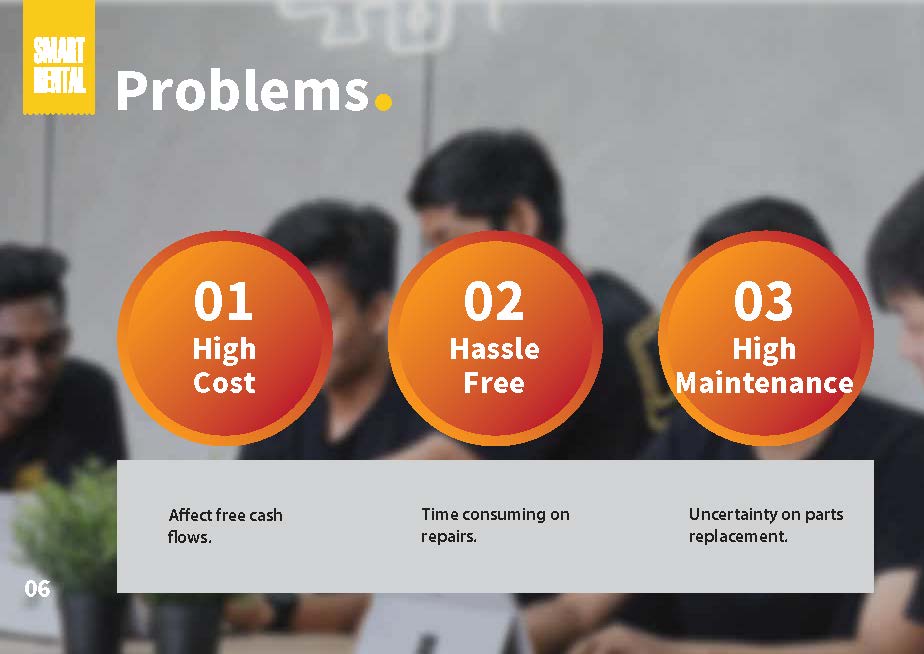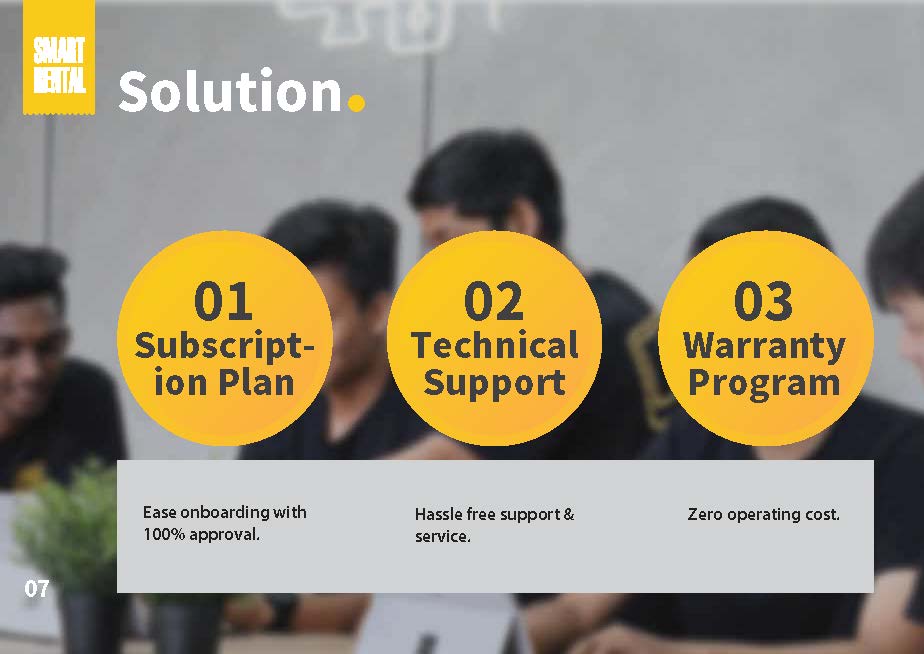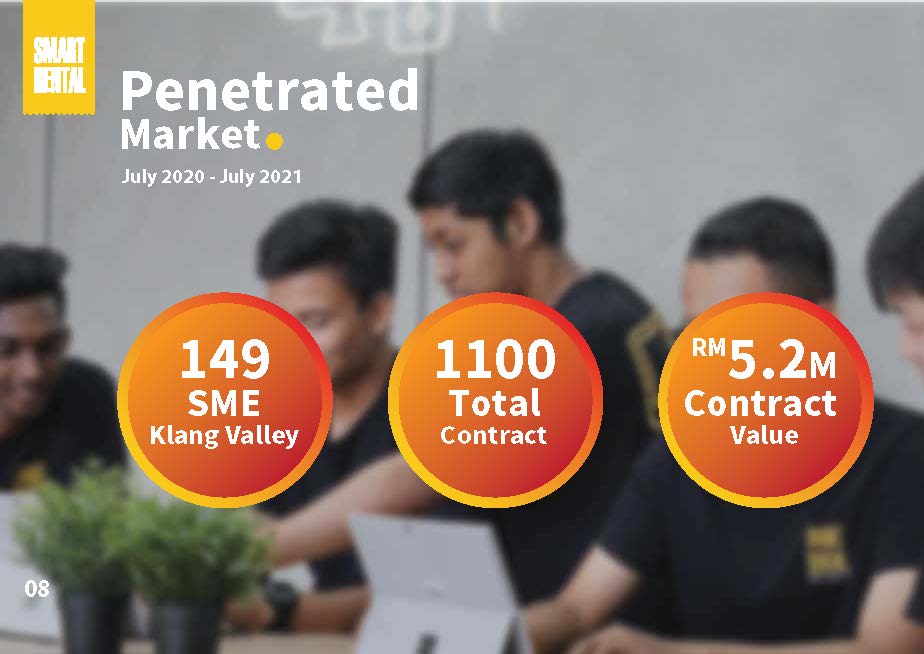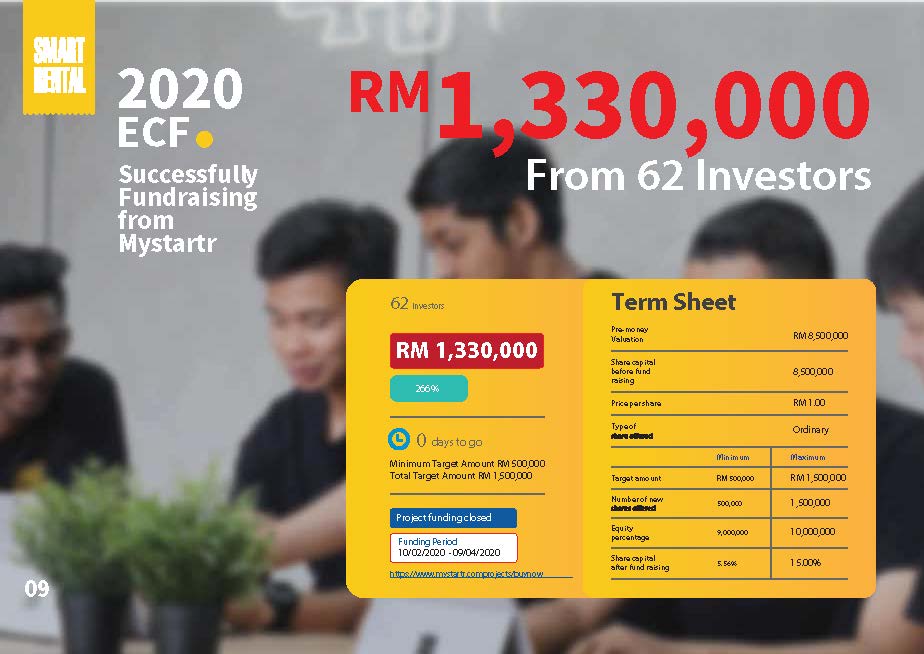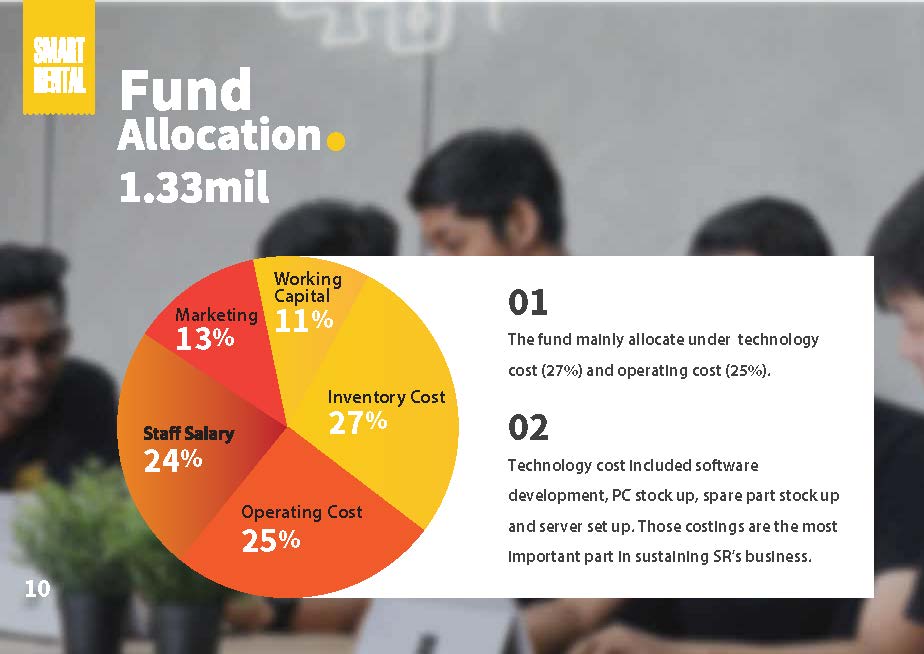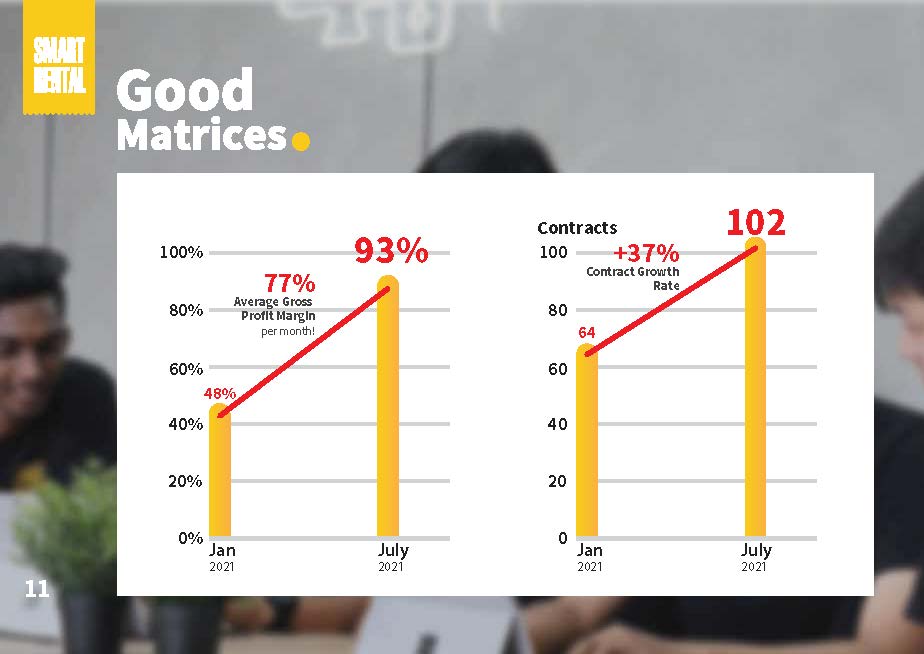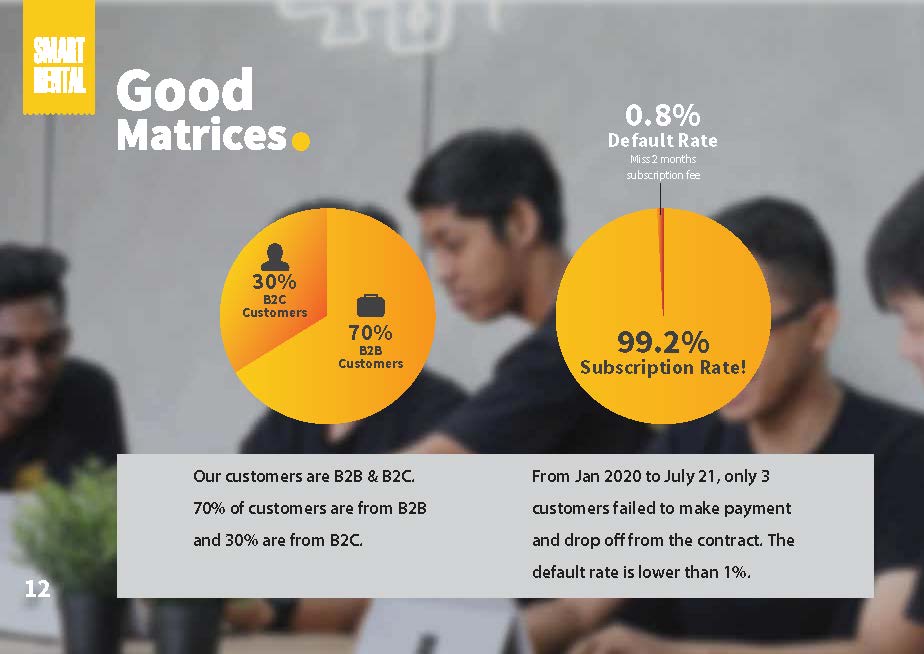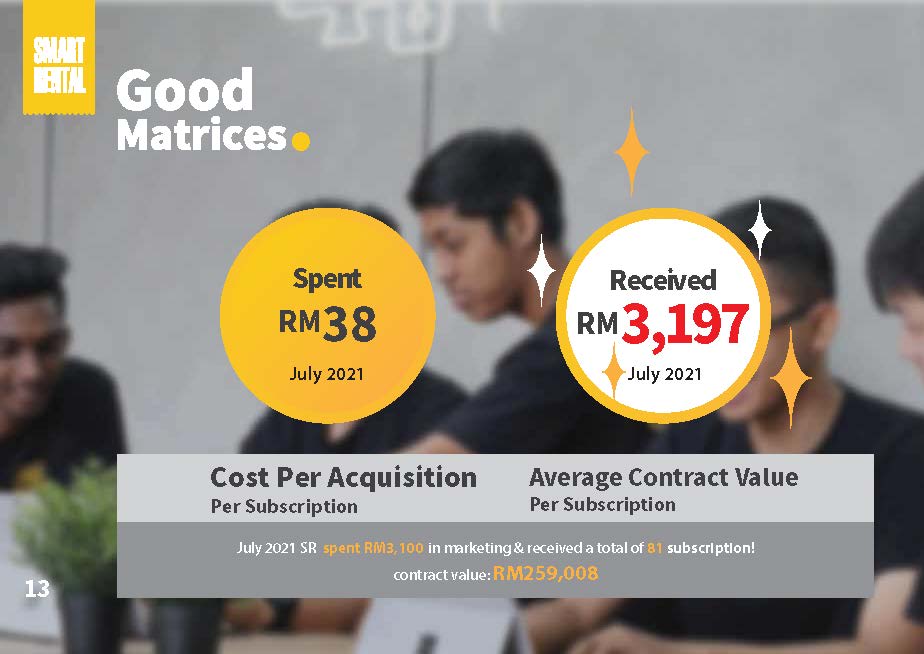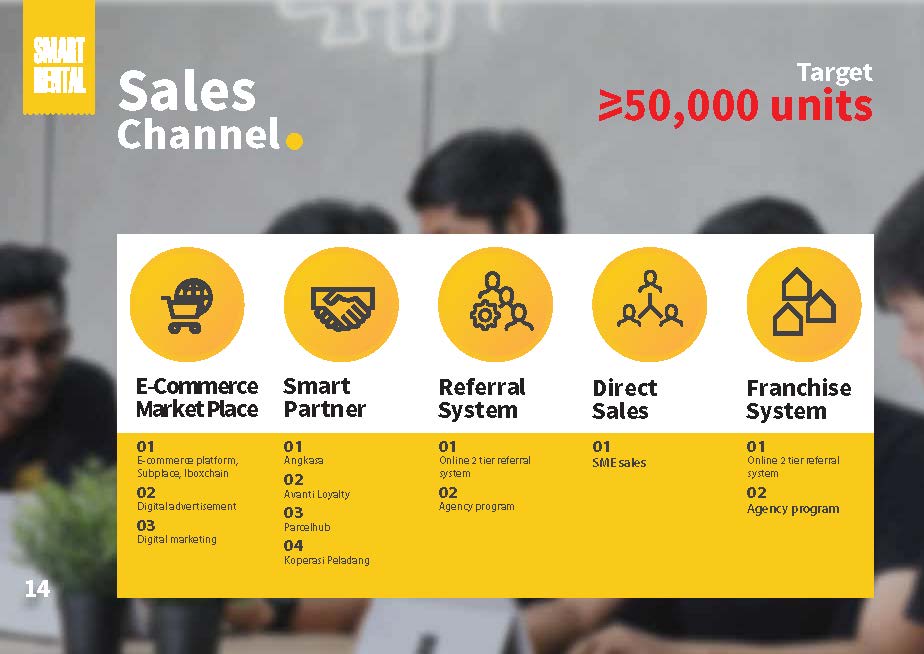 ---
For Further Enquiry
Please Contact Us
---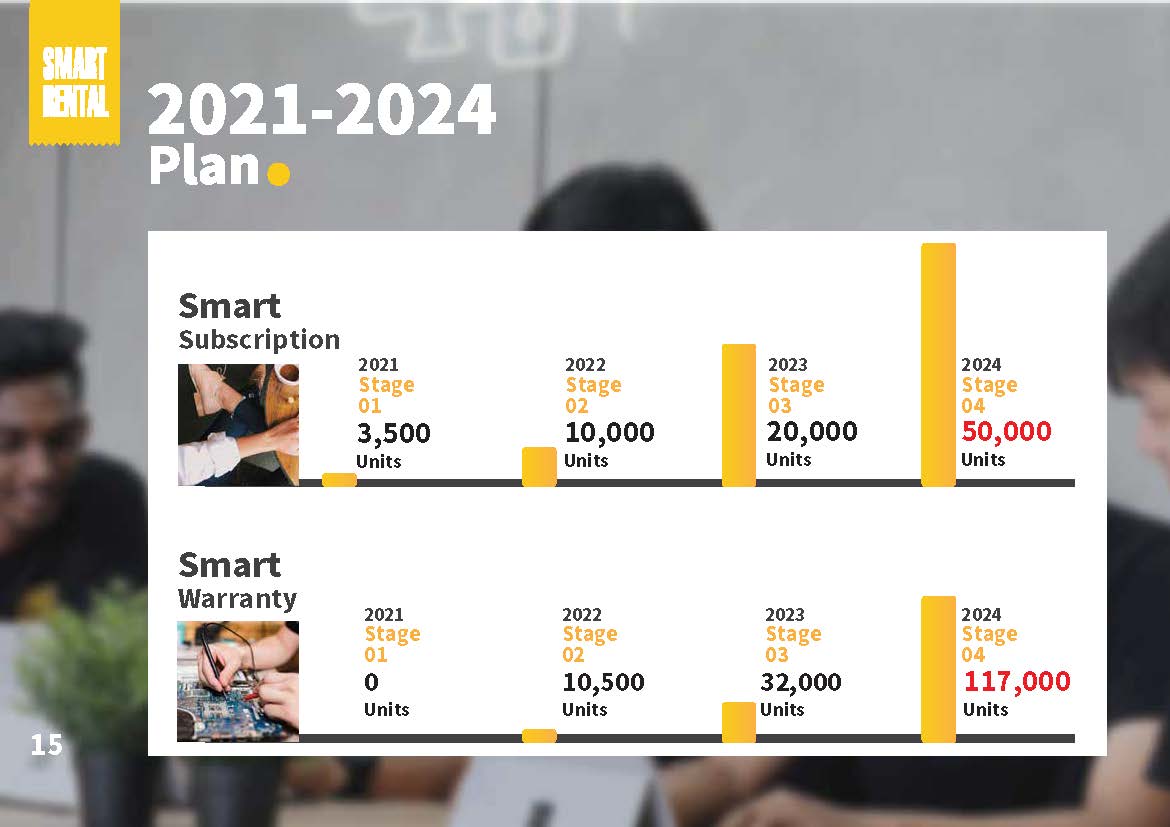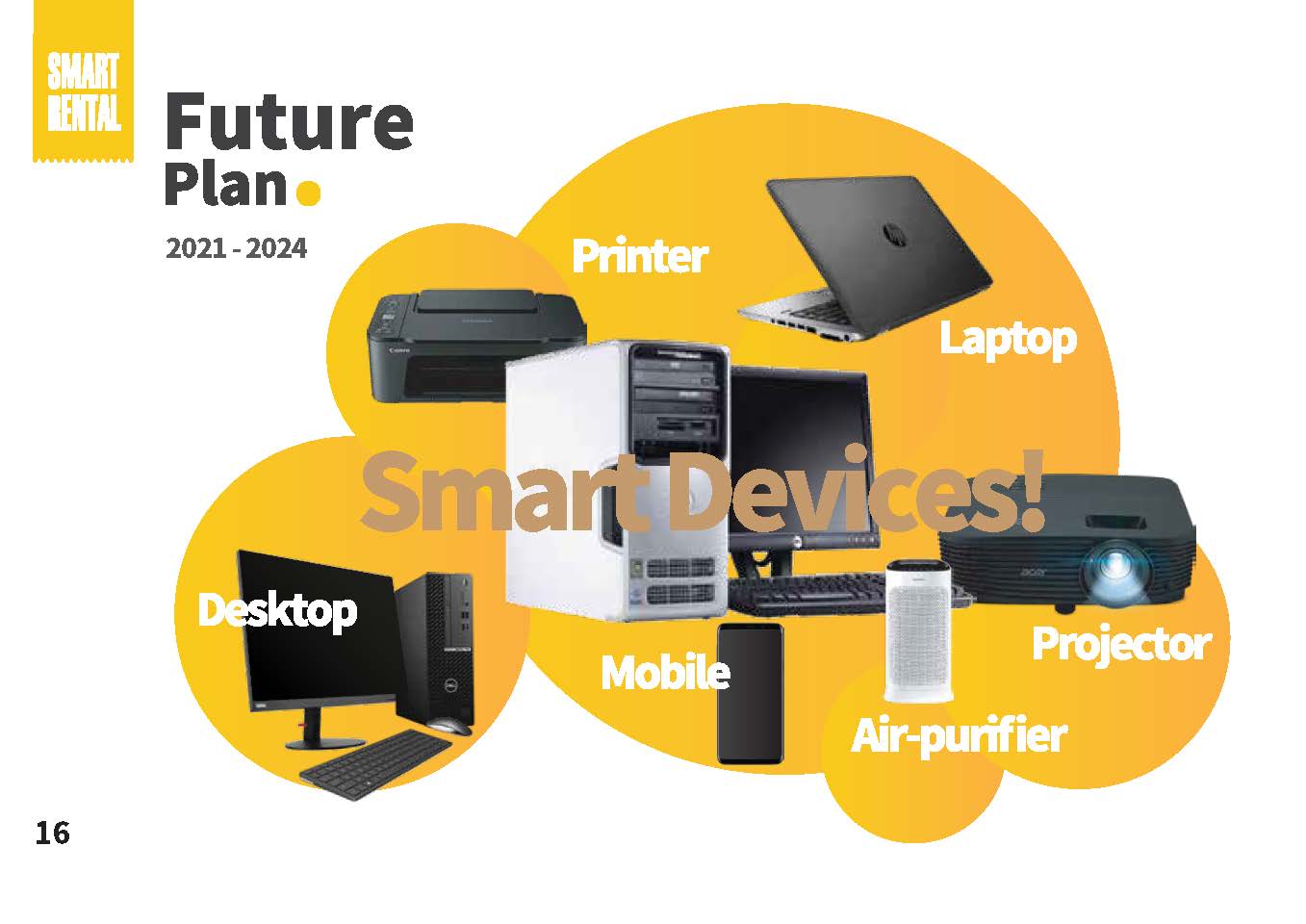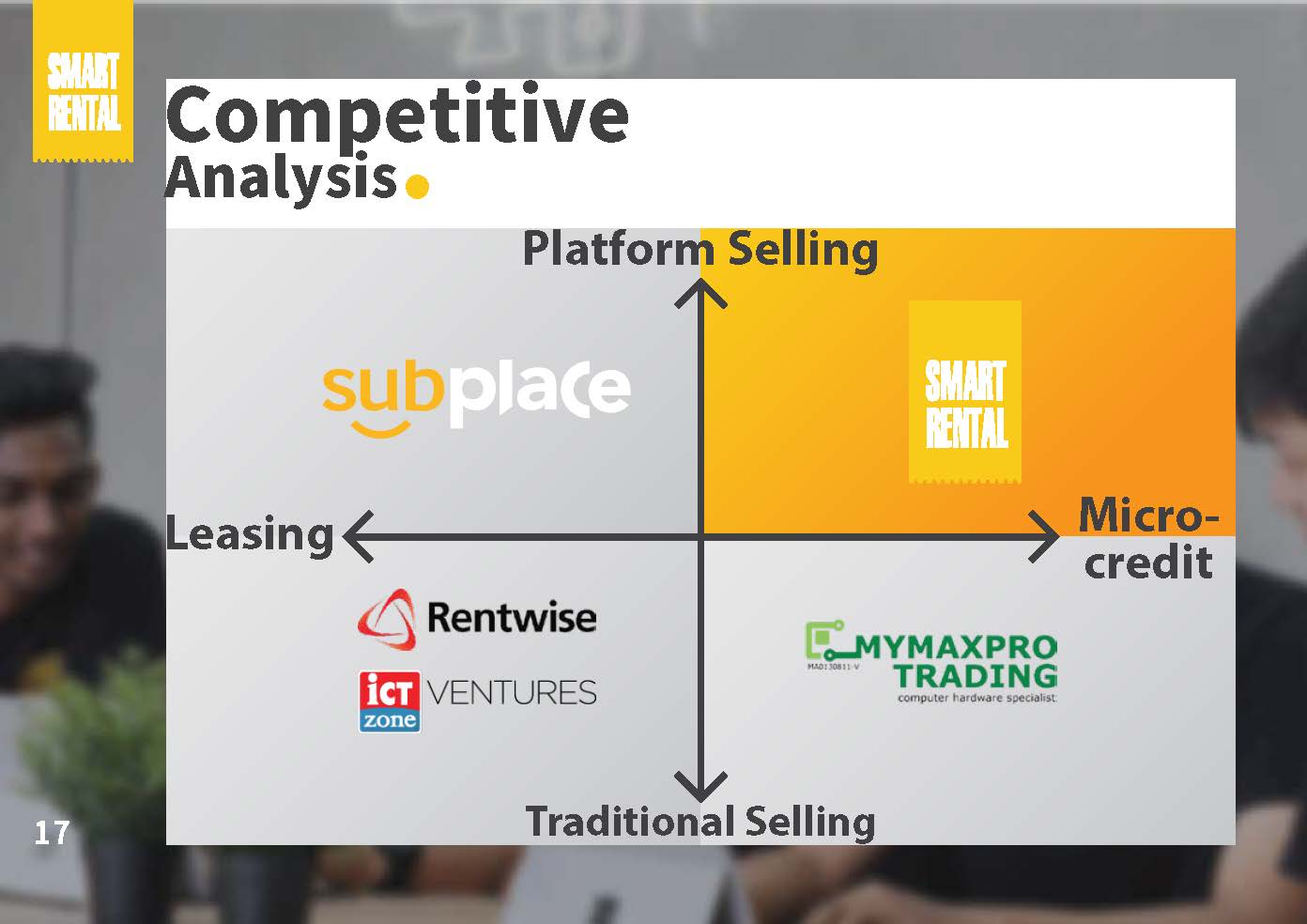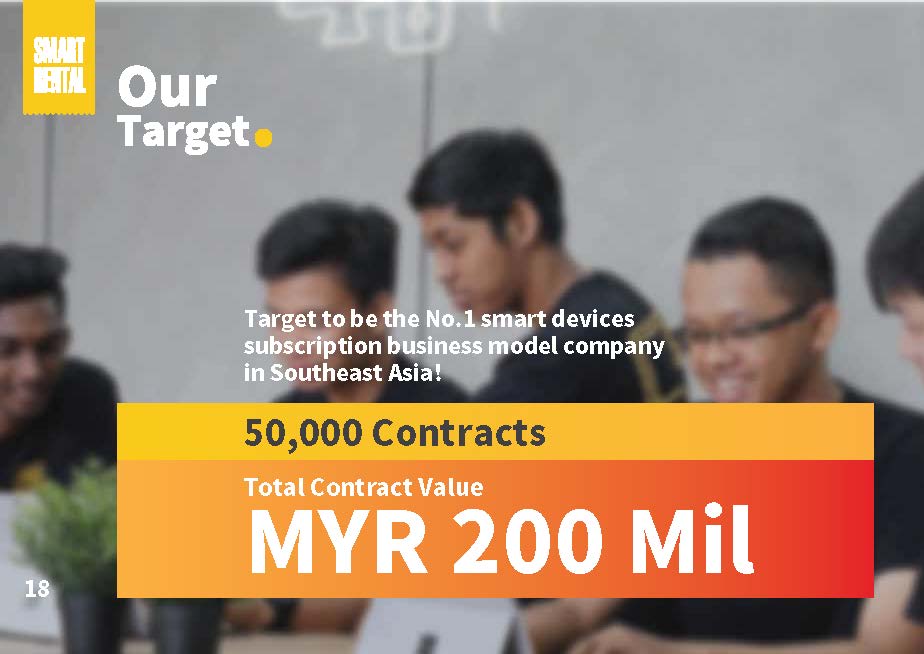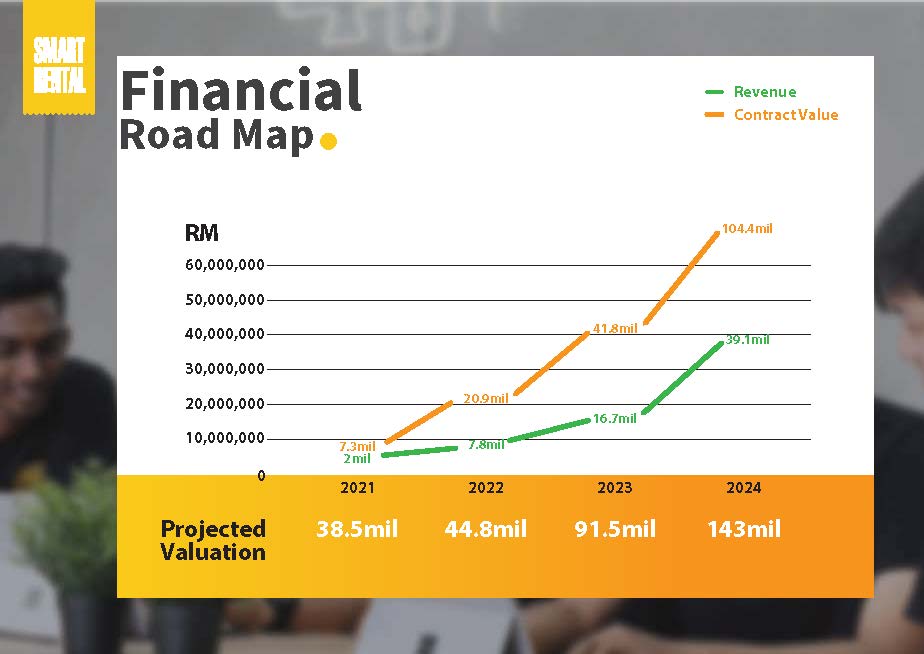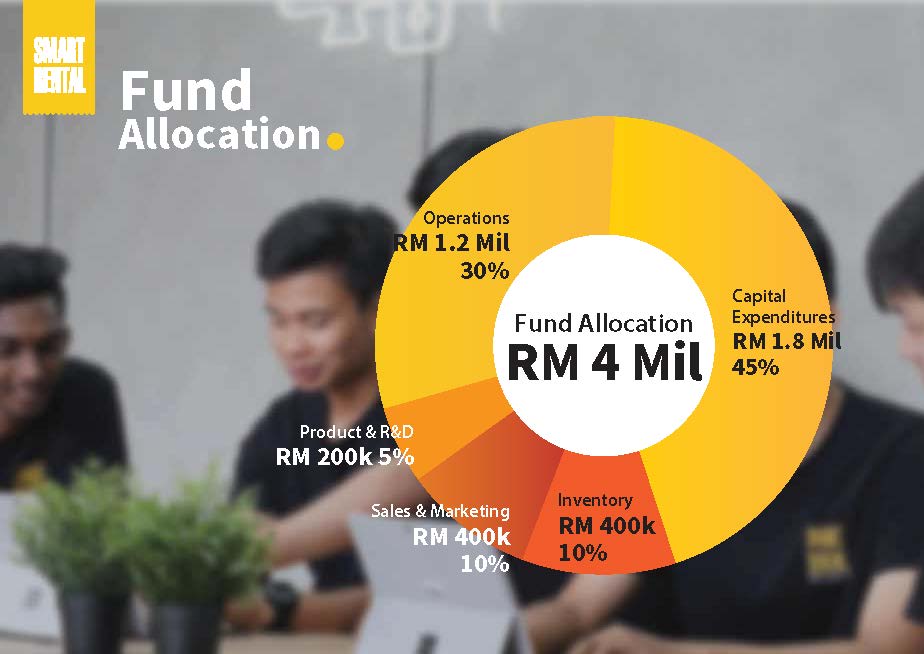 ---
For Further Enquiry
Please Contact Us
---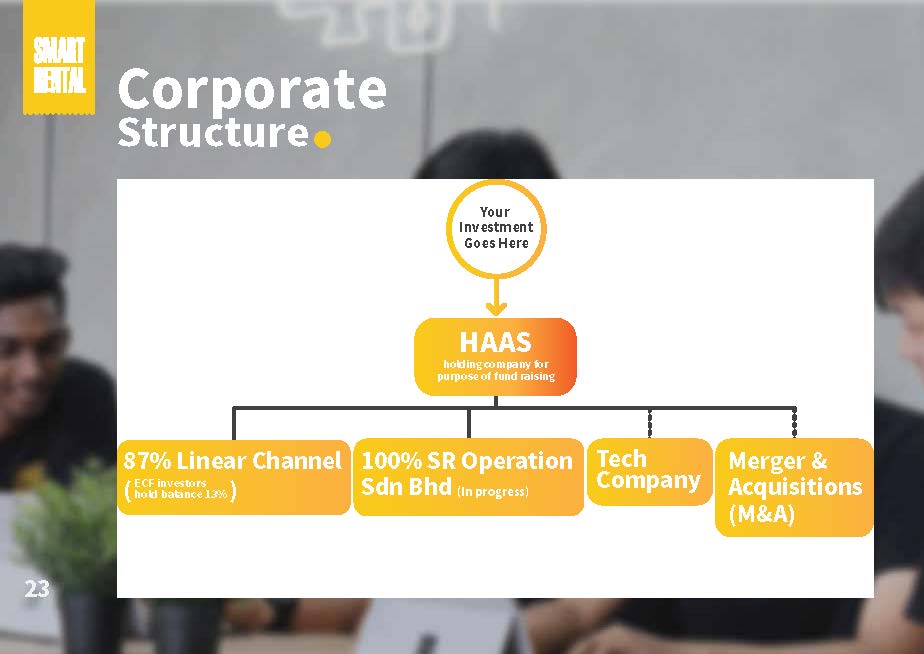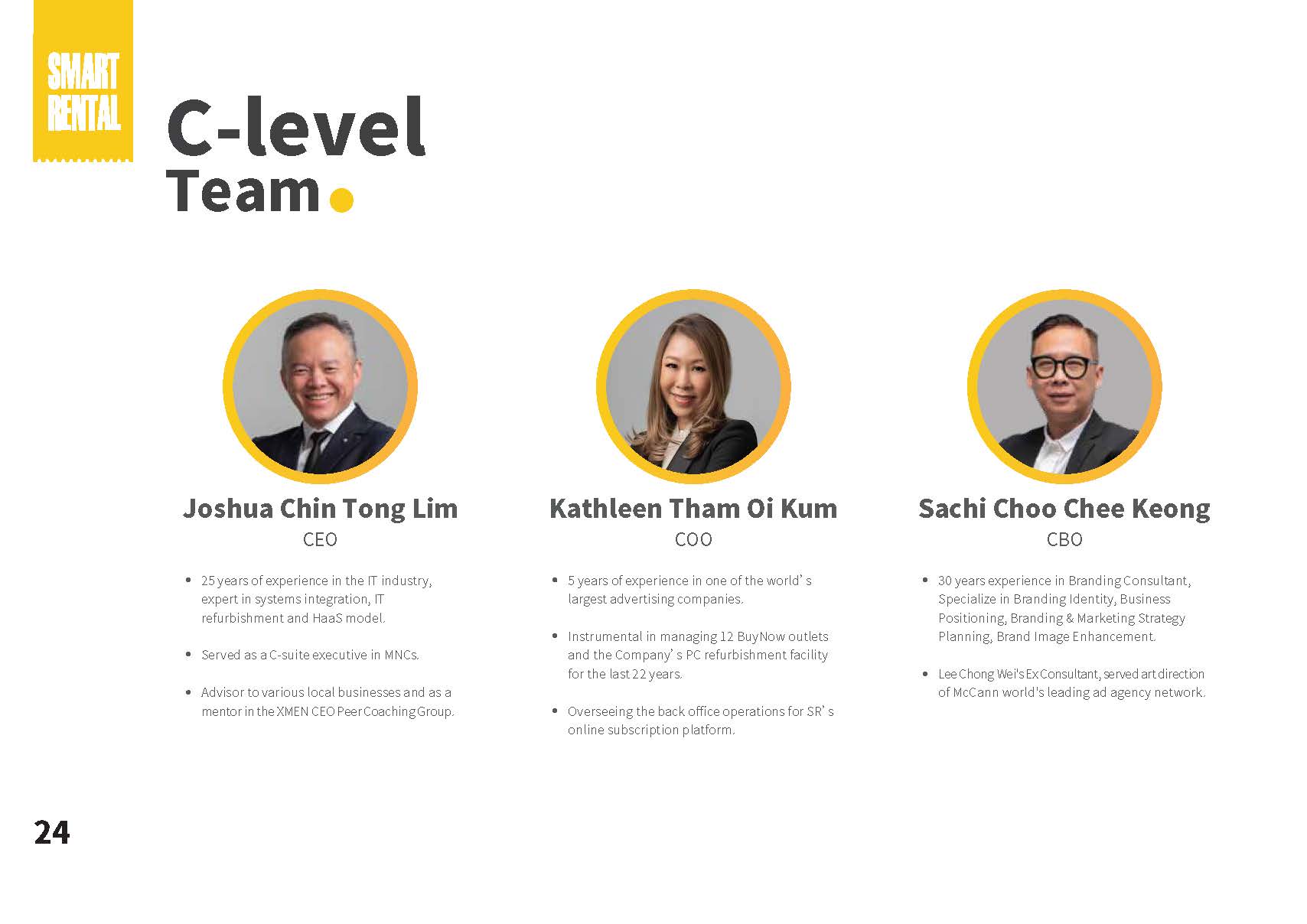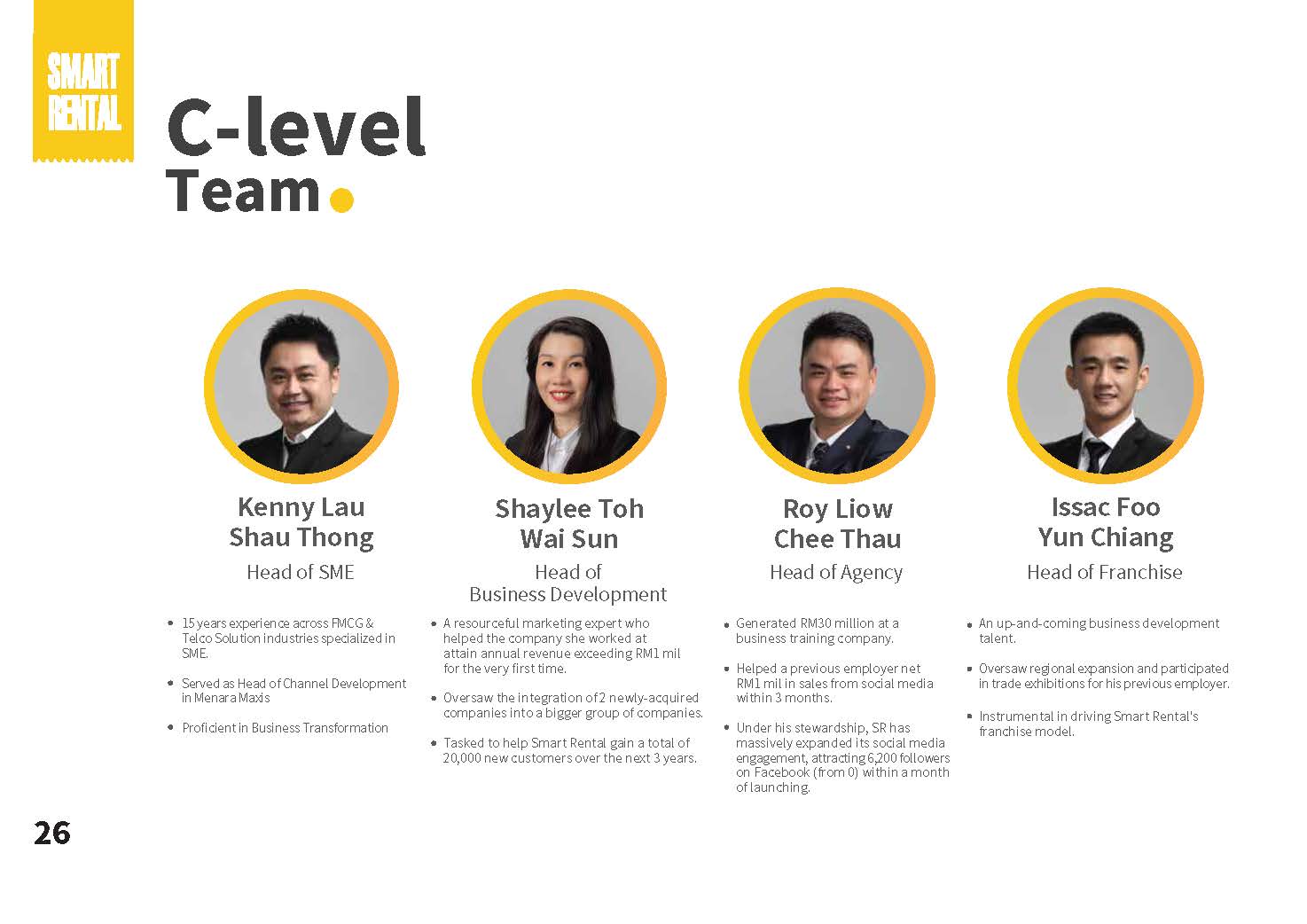 ---
For Further Enquiry
Please Contact Us
---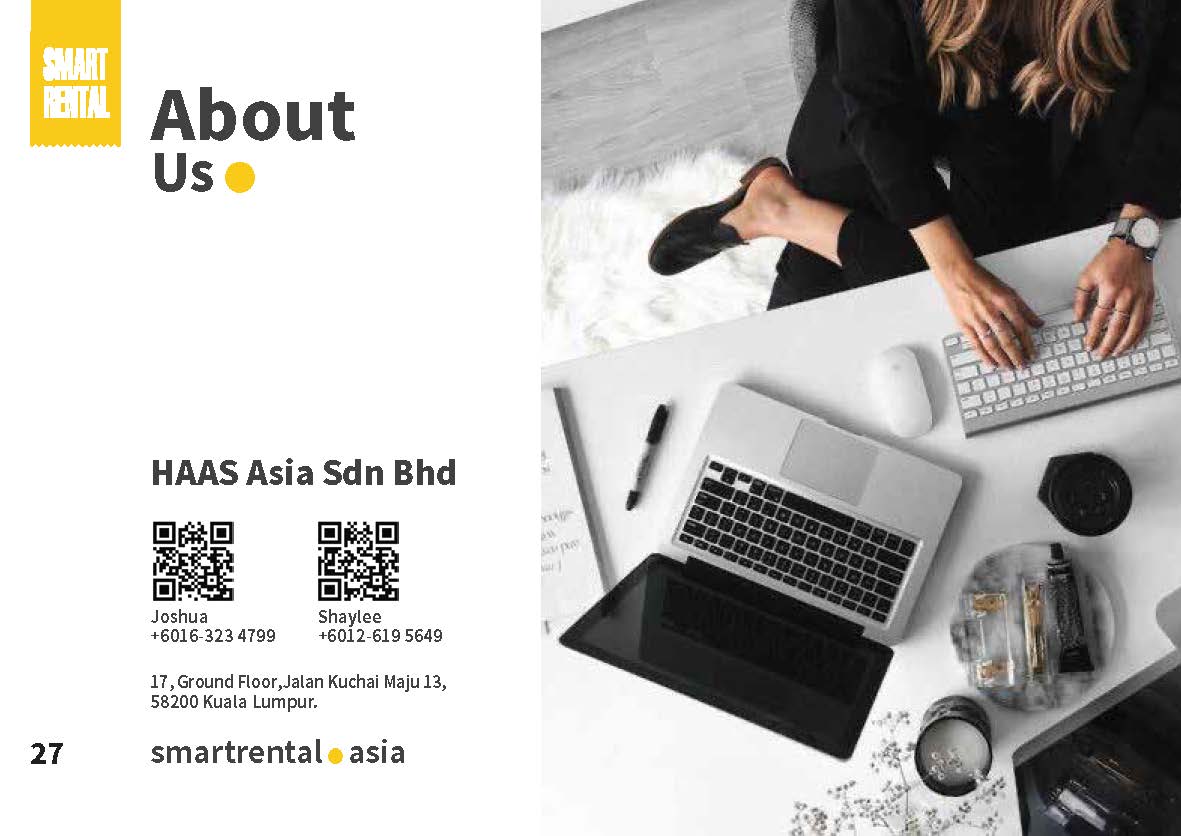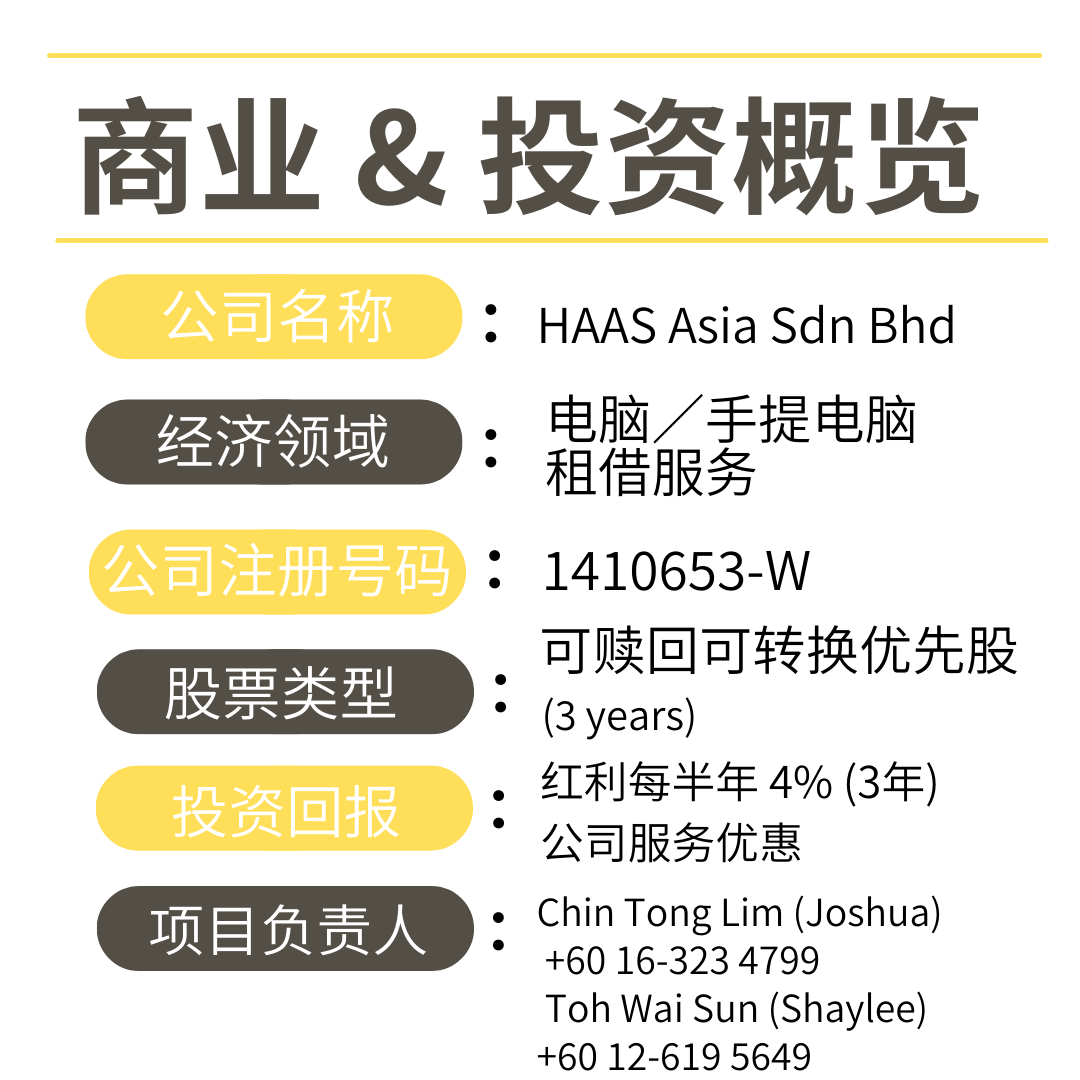 ---
欲知更多详情
请联系我们
---
我们的故事
智能手机诞生前,拥有一台笔记型电脑是每个孩子的梦想,儿时的我亦不例外。然而,出生于小康之家的我几经辛苦才能如愿——若不是父亲费尽心思说服店主以分期付款方式购买,我们根本就买不起一架要价RM3,800的笔记型电脑。看着父亲为了圆孩子的梦想而委曲求全的背影,实在教我没齿难忘。
受到儿时经历的启发,1999年,我和太太Kathleen创办了Linear Channel有限公司,以翻新和转售二手电脑为我们的主要业务,因我相信平价电脑市场拥有巨大的潜力,而正如我所预测的,我们的生意大获成功,当时在全马总共设立了12家分店。
采用HaaS商业模式,东山再起
好景不长,随着其他电脑品牌纷纷推出平价笔记型电脑(RM1,500左右即可购得),我们的生意受到波及,后来不得不忍痛放手。但是,我始终未曾忘记那些和儿时的我一样,只得对着别人的电脑望梅止渴的孩子。于是,我们耐心等待重振旗鼓的机会,果真皇天不负苦心人,2016年,我们参与了美国微软公司旗下的项目"微软无限潜能计划",以每月RM60的可负担价格,提供笔记型电脑予100户乡区家庭。看着他们终于有机会使用新电脑后那满溢的笑容,更坚定了我的使命。后来,我们采用HaaS("硬件即服务 Hardware-as-a-Solution",是一种由第三方提供硬件的云计算形式,指用户租用而不是购买供应商的技术资产)商业模式为我们的业务主轴。
上述计划是Smart Rental的雏形。今天,我们的业务已从翻新/转售二手电脑转型至电脑订用模式,对许多中小型企业及中下阶层家庭来说可谓是天降甘露般的福音。尽管市面上到处都有售卖平价电脑,然而平价的背后却是不耐用的处理器/记忆体,导致日后高昂的维修费用。人们会认为,天下根本找不着既可负担又耐用的笔记型电脑,但是,Smart Rental的存在就是为了解决人们这悬而未决的想望,而且我们还成功将人们的希望兑现了!
若能订用,何须购买?
一般而言,人们会倾向选择"购买"而非"租借",除了拥有权(ownership)心态作祟外,外界对"租借"都持有负面印象,认为租用的物品都很陈旧,甚至是别人不要了的东西,尤其是在IT领域方面。每当我们在报章杂志看到某某善心人士/企业捐赠电脑予郊区学校时,我们的脑海总是浮现出"那些电脑都是二手货或廉价货"的念头,毕竟无人真的愿意自掏腰包捐赠全新高端MacBook给小朋友们。
Smart Rental的其中一项使命便是颠覆人们的既定印象:我们以每月RM58起的费用,租出各大电脑品牌(Lenovo、Dell、HP等)具有i5优质处理器的笔记型电脑。订用期间,人们完全无需担心电脑的维修问题,因这一切都已囊括在我们的保修计划里面。换言之,当我们购买一架RM3,000的笔记型电脑时,若加上这2-3年内的维修费用,我们也许得花上额外的RM2,000,且电脑的寿命往往只有3年左右;然而,若选择订用Smart Rental电脑(选择RM87月配套的话),2年内仅需花RM2,088,完全无需额外缴纳维修费,甚至可在2年租约到期后再升级至新电脑!
在后疫情时代,为中小型企业增值
新冠疫情为本地中小型企业形成巨大的冲击。许多商家不得不绞尽脑汁削减营运成本,以让公司能度过此次严峻的挑战。当每个员工亟须一部电脑居家办公时,公司不再需要花大手笔购买10台以上的新电脑,且无需担心面临高昂维修成本的风险——我们的存在就是为了解决中小型企业的燃眉之急。
除了能以优惠的价格订用电脑外,企业还能享有如下福利:免费更换、免费服务、免费保修、免费维修、免费升级(需符合条规)及免费运送!换言之,企业若签购我们的配套,他们便能大幅度地节省成本,确保公司的运营如常之余,还能将额外资金投入到产品研发或市场营销,大大提升公司的价值。此外,选择订用而非购买能给予公司极大的弹性——他们可随时根据现有情况,结束签约或买断电脑。
前所未有的数码技术员预约平台
我们还计划开发一个新项目:数码技术员预约平台。若电脑出现问题,用户只需透过应用程序预约临近的IT技术员,便能快速修理电脑。人们无需再前往专门的电脑修理店,等待数天才能取回电脑,此项目完全对应了21世纪的快节奏生活,因时间成本也是企业不得不应付的隐形开销。
永续策略不再是科学家的任务,你我都需参与其中
电子废弃物是全球性的环境灾难,各国已严正看待。根据2024年东南亚市场规模预测,弃置的电脑总价将高达RM303亿!
除了表明这庞大的市场规模外,IT界也肩负相对的责任以减少这项棘手问题带来的严重后果。Smart Rental秉持着永续发展的信念,从全球市场买入优质二手电脑并将之翻新,再以全新的面貌售出/租出,从而减少电子产品的浪费。此外,这种模式还是高利润的,因买入一架二手电脑及翻新只需花RM1,400。
为B40争取同等的机会
疫情加速了各种产业的转型,包括教育机构。网课已成为主流的教育方式,因此电脑也成了学生不可或缺的物品。然而,国内庞大的B40群体却无法轻易负担价格昂贵的电子产品,导致孩子们无法获得同等的教育机会,造成学习进度严重落后同侪的现象。
Smart Rental未曾忘记"让人人有机会使用电脑"的使命,为此,我们即将推出一个能帮助B40群体的Sambong Future项目,让有需要的家庭能以低于市场价的价格租借电脑。我们相信,当各大电脑厂商都在锚定跨国企业/中产阶级人士时,Smart Rental能另辟蹊径,成为接地气的优秀本土企业!
22年丰富经验 + 多元收入渠道让Smart Rental 独树一帜
自1999年以来,我们已积累了丰富的商业经验,站在时代的前锋,随时根据大环境调整我们的策略。从售卖/翻新二手电脑至电脑订用服务,我们的多元收入渠道经得起时间的考验:截至今天,我们已透过200个分销渠道,成功售出100,000架电脑。
2020年2月至4月,我们在众筹平台MyStartr成功筹募RM130万,远超过原定的RM50万目标,可见Smart Rental具备巨大的市场潜能,吸引了78个不同背景的投资人愿意助我们一臂之力。
此外,凭借成熟的业务生态系统及"一条龙"产业链,Smart Rental还晋级2019年阿里巴巴全球诸神之战创客大赛(吉隆坡赛区)决赛,并于2020年获得中小型企业界的最高殊荣金牛奖。
今年,我们开启了另类的业务拓展项目——透过招募代理,我们将Smart Rental以口碑营销的方式推广至各阶层人士,并且见证了首轮成功:在短短两个月内,我们已成功招募20个代理,并将持续往50名代理的目标前进!
我们甚至招募了一位中小型企业负责人,尽管他于2021年6月才加入我们,却成功收集全马中小型企业联络资料。这份宝贵的资产让我们得以将目标锁定在2,000-3,000家中小型企业,成为我们未来的主要目标市场。
我们的脚步并不限于此。除了与ParcelHub合作外,我们也计划设立特许经营(Franchise)快捷店(Express Store),让全马人民能轻易地上门签购各种订用配套或咨询感兴趣的项目。这也是我们的另一项收入来源,让公司不会仰赖于单一的渠道,保证营运之余还能提高净利率(profit margin)。
截至今天,我们已成功签发1,100份租赁合约,合约总价为RM520万。由此可见,我们的商业模式已备受市场肯定,并将逐步渗透至各个市场细分。我们的这一轮众筹目标高达RM400万,35%用作技术研发,30%用于营运资金,25%充作人力资本,最后10%则用于市场营销。
信息革命已是响当当的事实,特别是新冠疫情后,身为发展中国家的马来西亚也无可避免地卷入这场技术革命的浪潮。若没有基础的电子产品配备,不论是个人或企业都无法有效地进行日程规划,更甭说马来西亚的主要经济命脉——中小型企业了。Smart Rental的创新商业模型不只能解决个人层面的烦恼,还能扶持中小型企业转型,让商家们无需再烦忧高昂的IT成本。
创业的过程中,我们并非不曾遭遇失败。然而,即使眼前的困难看似多么难以跨越,我们还是磕磕绊绊地走过来了,未来还有很长的一段路要走。提供可负担的优质IT产品是我们的愿景,因我们相信,每个人都应获得平等的向上流动的机会!
创新的商业模式
Smart Rental的"硬件即服务"(HaaS)商业模式颇受欢迎,预计可在未来五年内获得极高的关注度(年均复合增长率为26.2%)*。许多大集团如亚马逊、思科及知名电脑厂商(如惠普和联想)也采用这个模式。我们的专业管理团队将定期检视和调整该商业模式,以随时应对市场趋势(*Source: Business Insider)。
成熟的业务模式
推出Smart Rental前,我们的年收入已创下最高RM700万的记录。截至今日,我们透过200个分销商售出超过100,000台的翻新电脑,并与12家银行合作,为顾客提供简易的付款配套。我们的收入来源多样化,涵盖转售/翻新二手电脑及短期电脑租借,而且"一条龙"产业链在在显示我们丰富的市场经验。
稳固的客户来源
Smart Rental与KPUNB合作,为公务员和政府关联公司(GLC)职员提供零预付订金服务。此外,我们还与合作社联盟Angkasa签署谅解备忘录,让其属会推广我们的服务,以此赚取佣金。公私领域结合的合作社社员数量庞大(高达上万名),让我们不只能成为私人界IT服务的佼佼者,还能进军公务员领域,形成稳定的客户来源。
正确的市场定位
我们的同行一般只为有庞大资金预算的大型企业或政府机构服务,因此Smart Rental能填补市场空白——我们所提供的服务不只能满足各阶层人士的需求,还能为各种规模的企业提供实惠的签约配套。随着新冠疫情迫使人们居家办公,2020年电脑需求的暴增(12.9%增长率)持续蔓延至2021年(预计18.2%增长率)*,我们的市场定位正好能应对庞大的B40消费者及中小型企业的需求,因他们希望能以更实惠的价格获得电子产品(*Source: IDC)。
通过国内知名众筹网站

MyStartr融资
2021年2月-4月,我们成功在MyStartr筹货RM130万,远超越我们的原定目标RM50万。此次融资前,我们连一个订阅户都没有,然而多亏78位投资人的信任,募得资金后的我们立即落实所有原初计划,并成功在少于一年内获得1000位以上的订阅户!在国内站稳脚跟后,接下来,我们将放眼东南亚市场,成为区域内领先的"硬件即服务"供应商。
电脑翻新与租借配套结合已被证明是高利润的商业模式
我们的备货成本如下:以RM1,000买入一架二手笔记型电脑,加以RM400的零件更换/换上新外观,等于RM1,400的备货总值。之后,我们再以每月RM78租出长达24个月,加上第二次租借时的每月RM48 x 24个月,待电脑退伍前便能获得RM3,024的总收入。若扣除20%的销售成本及RM1,400的备货成本,一架电脑的净收入便是RM1,020,可谓高达33.7%的毛利率!
亲民的租赁配套
Smart Rental 提供12-24个月不同价格的电脑订用配套,并包括下列服务:使用电脑的权利、定期维护与软件升级、维修与更换,及合约更新后可享有免费款型升级。平均而言,我们的顾客可节省37% 购买电脑的费用,以及55% 的维修服务费。
先租后付的福利让客户无后顾之忧
我们的顾客可享有网络自动化带来的便利。我们成功开发了一个完整的每月定期支付系统,用户可通过简单程序,以信用卡、借记卡或FPX进行网上支付。此外,我们还与IOUpay平台合作,让顾客可享有先租后付的福利。换言之,我们不会面对现金流问题,因IOUpay已帮助手头拮据的顾客解决财务负担。
在有条件的情况下得以发放特许经营权
2021年4月,我们已通过马来西亚国内贸易及消费人事务部审核,得到发放特许经营权的国家执照。一旦我们开始招收直销分店代理,我们便能大幅度地提升市场曝光率,让3S中心不只是传统的商业门市,还能成为新世代的共用工作空间(co-working space)。
与国内知名运输公司

ParcelHub 合作
我们的业务并不局限于网络。透过与ParcelHub签订合作协议,我们已在全国设立233个服务中心,除了让顾客可随时前往临近的ParcelHub门市签收电脑/询问有关配套的事宜外,还能充作营销管道,让访客有机会接触我们。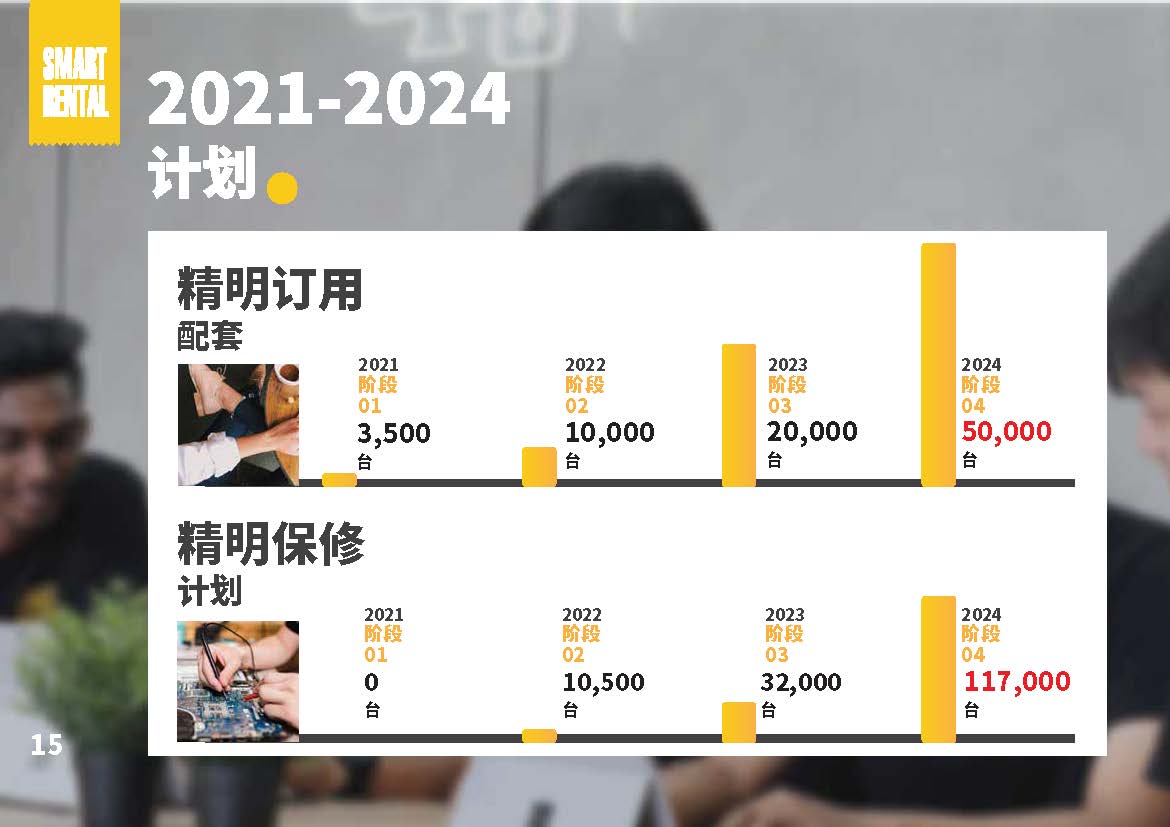 当您阅读到这个部分,表示您对我们的发展前景颇有信心,那么还等什么呢?机会总是留给有准备的人,跟从您的心意,一起加入成为我们的大家庭吧!
---
Website: https://smartrental.asia/main/
Facebook: https://www.facebook.com/SmartRental.JustRentIt
Instagram: https://www.instagram.com/smartrental.asia/
Whatsapp: Contact us
---
投资框架协议(Term Sheet)
---
欲知更多详情
请联系我们
---
投资配套 (Investment Packages)
---
公司结构(Company Structure)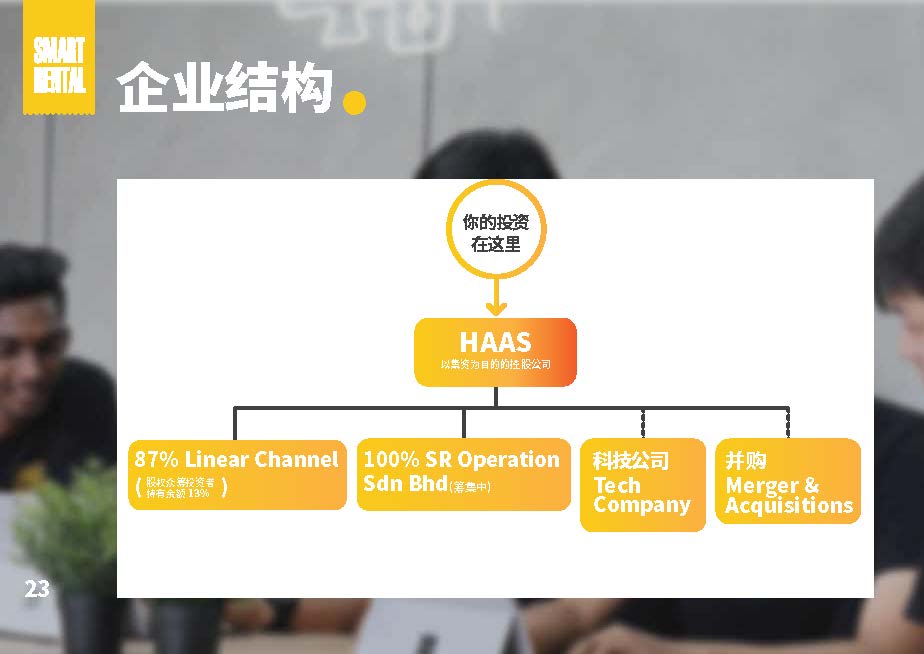 ---
核心团队(Core Team)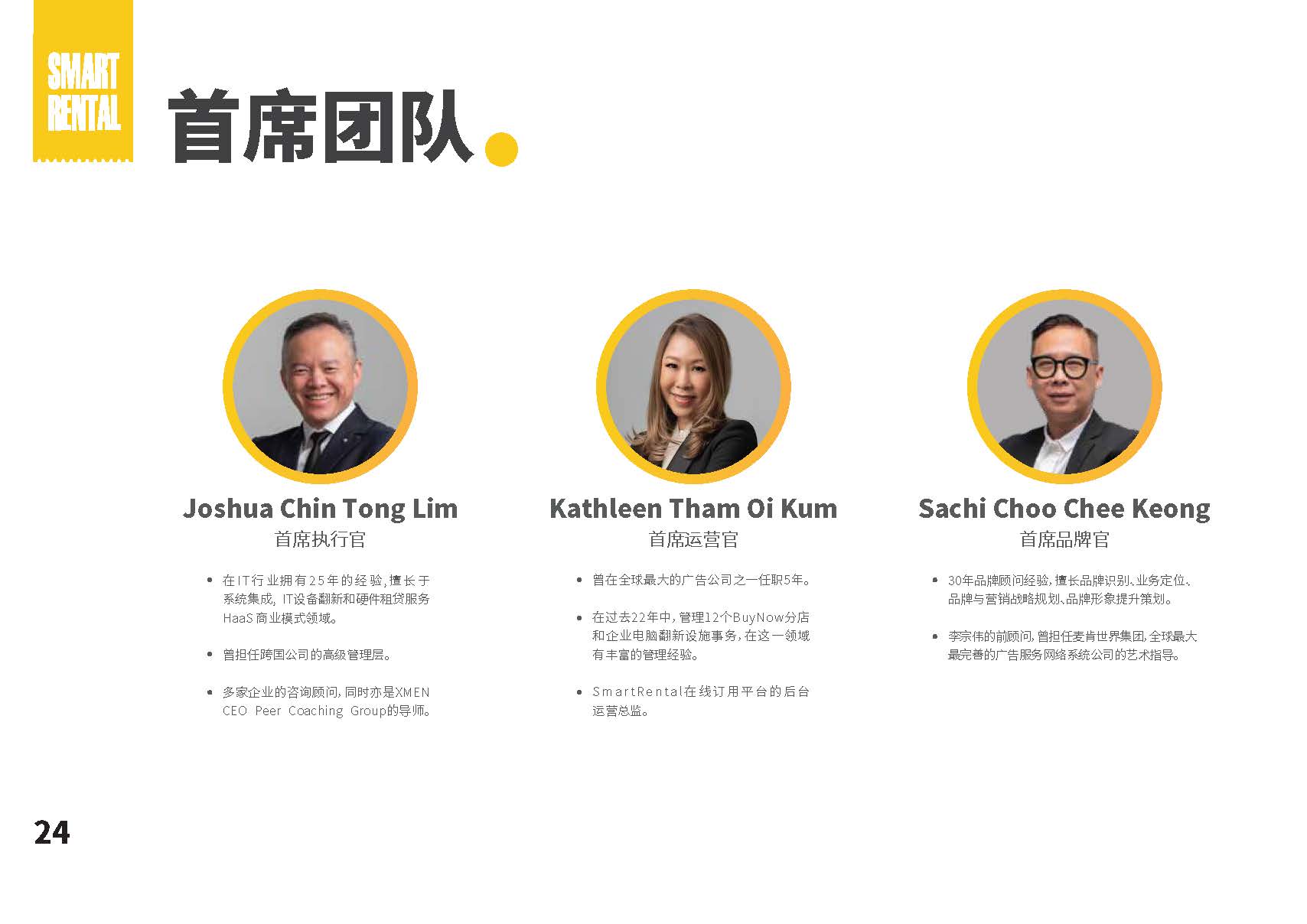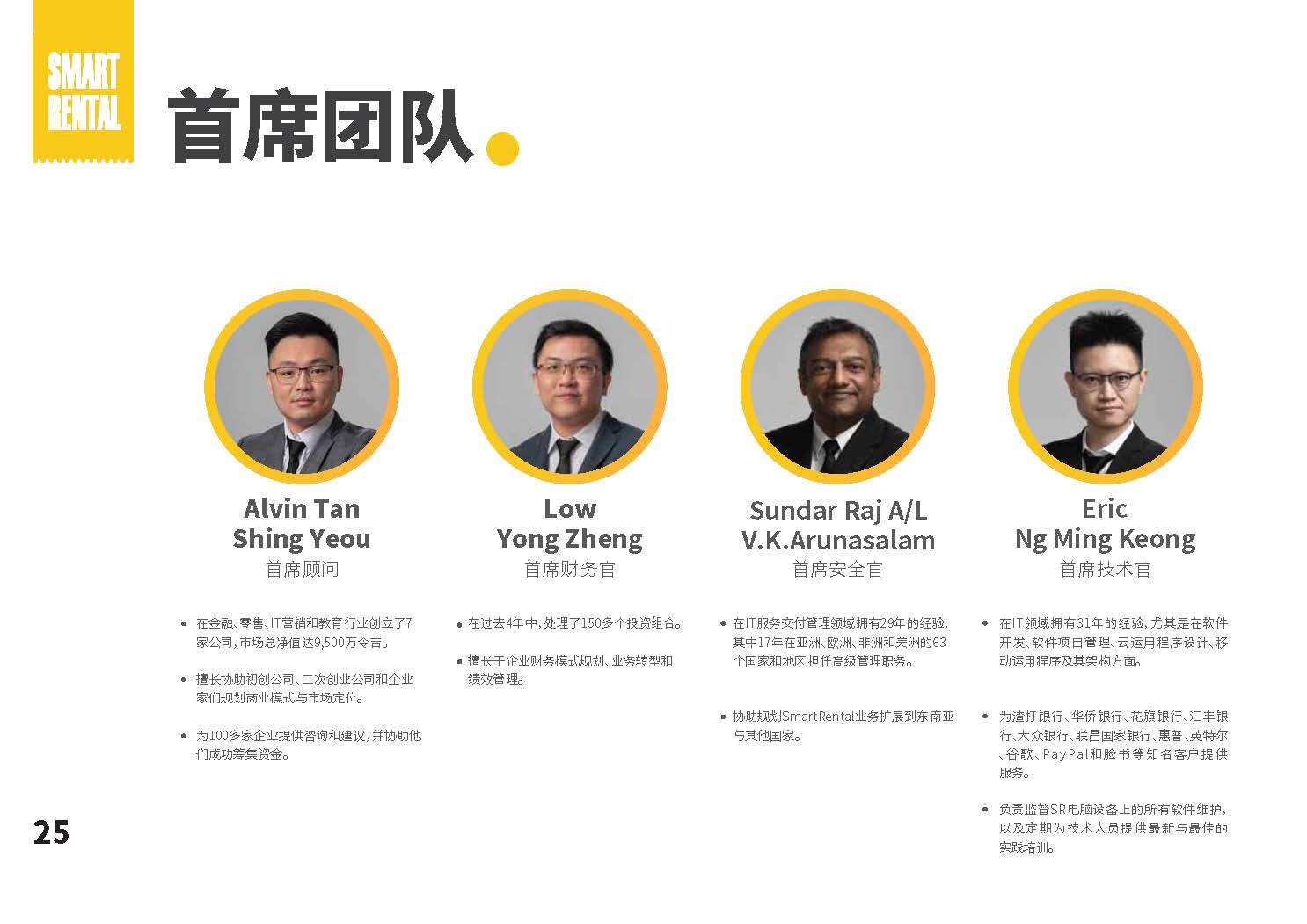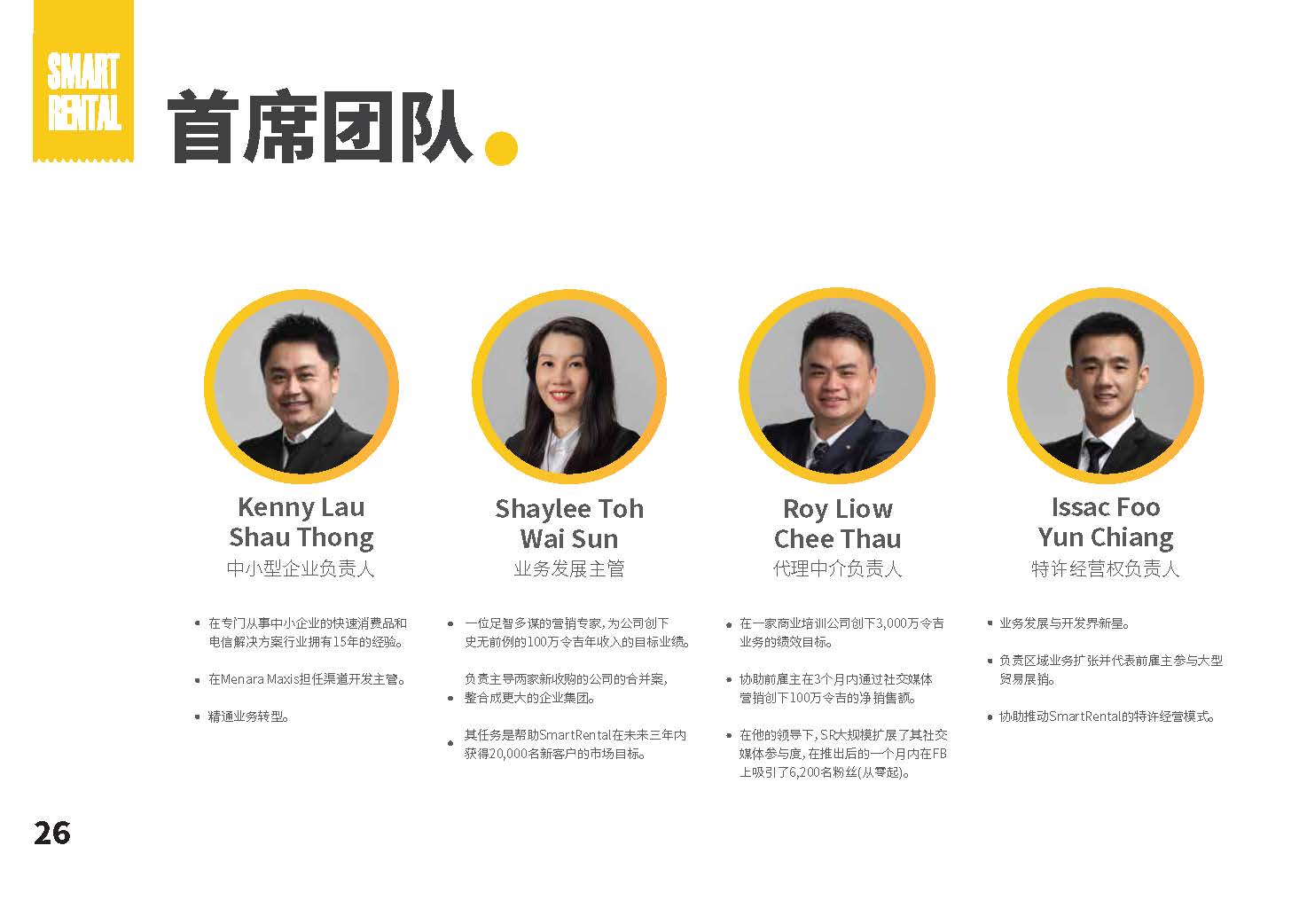 ---
创办人募资简报(Founder's Pitch Deck)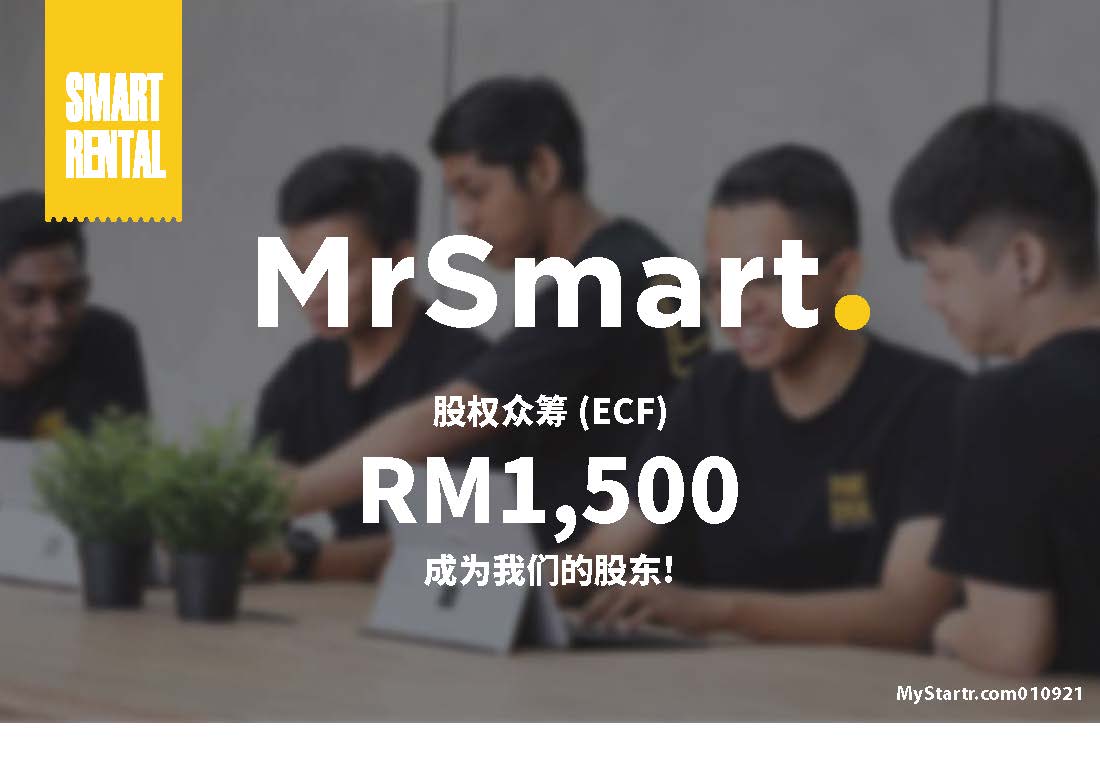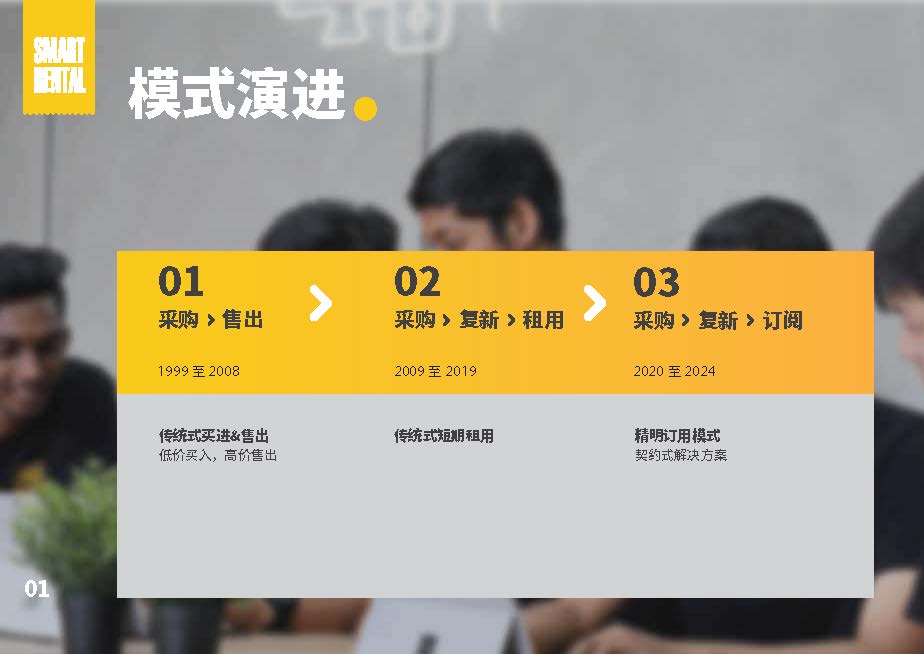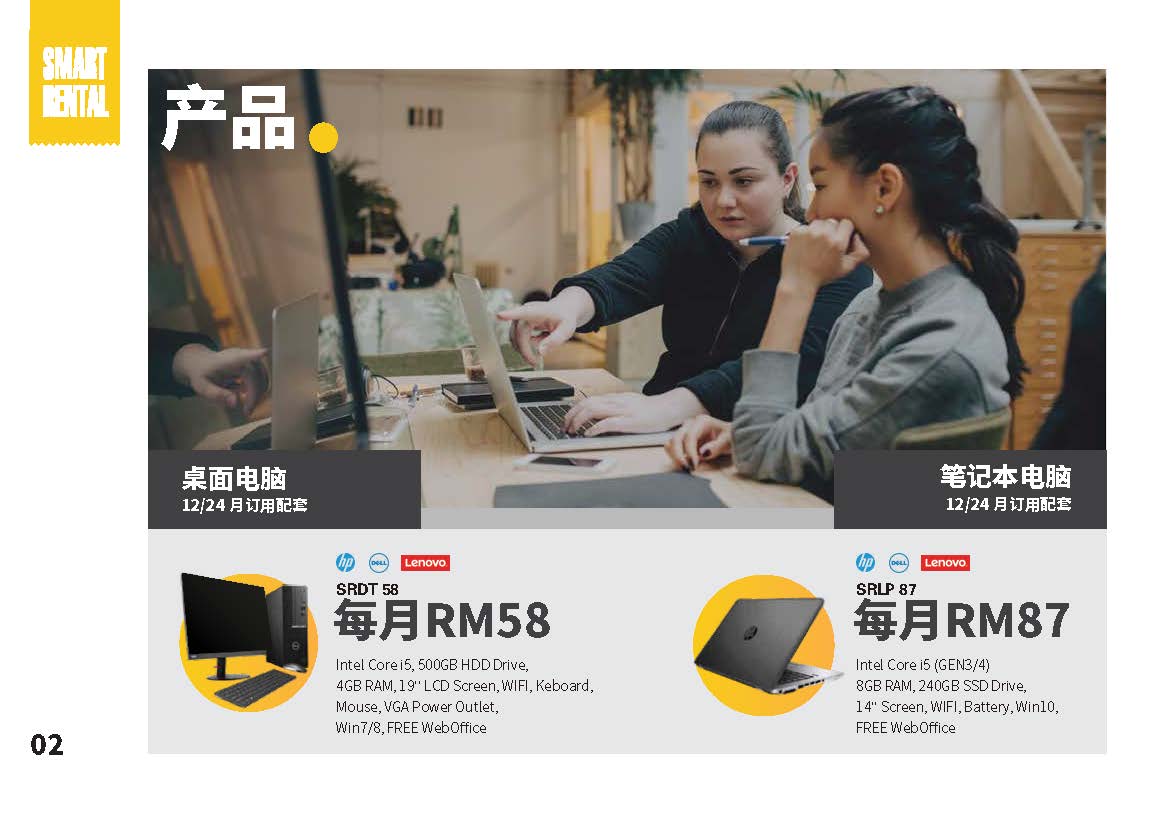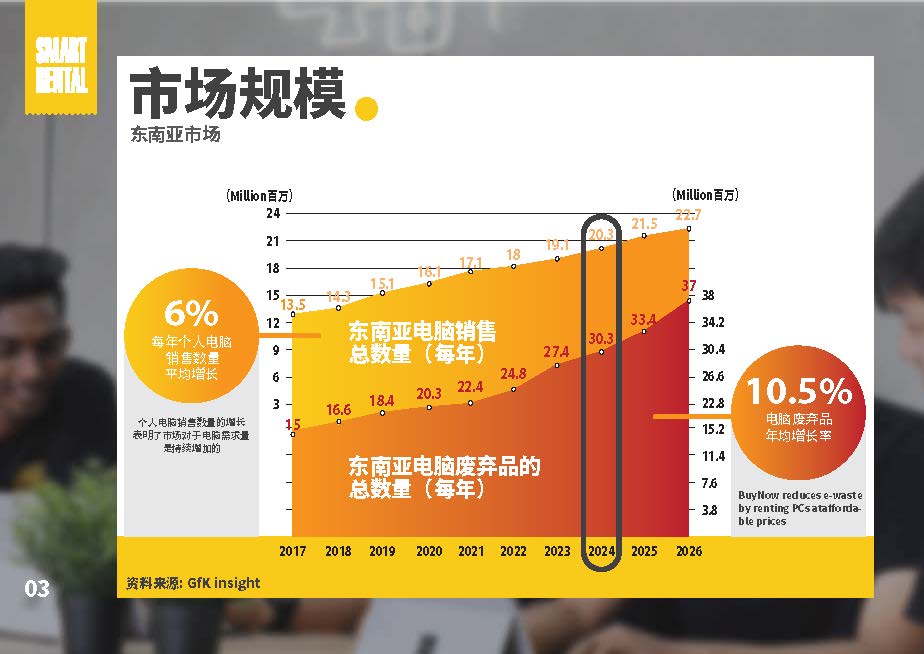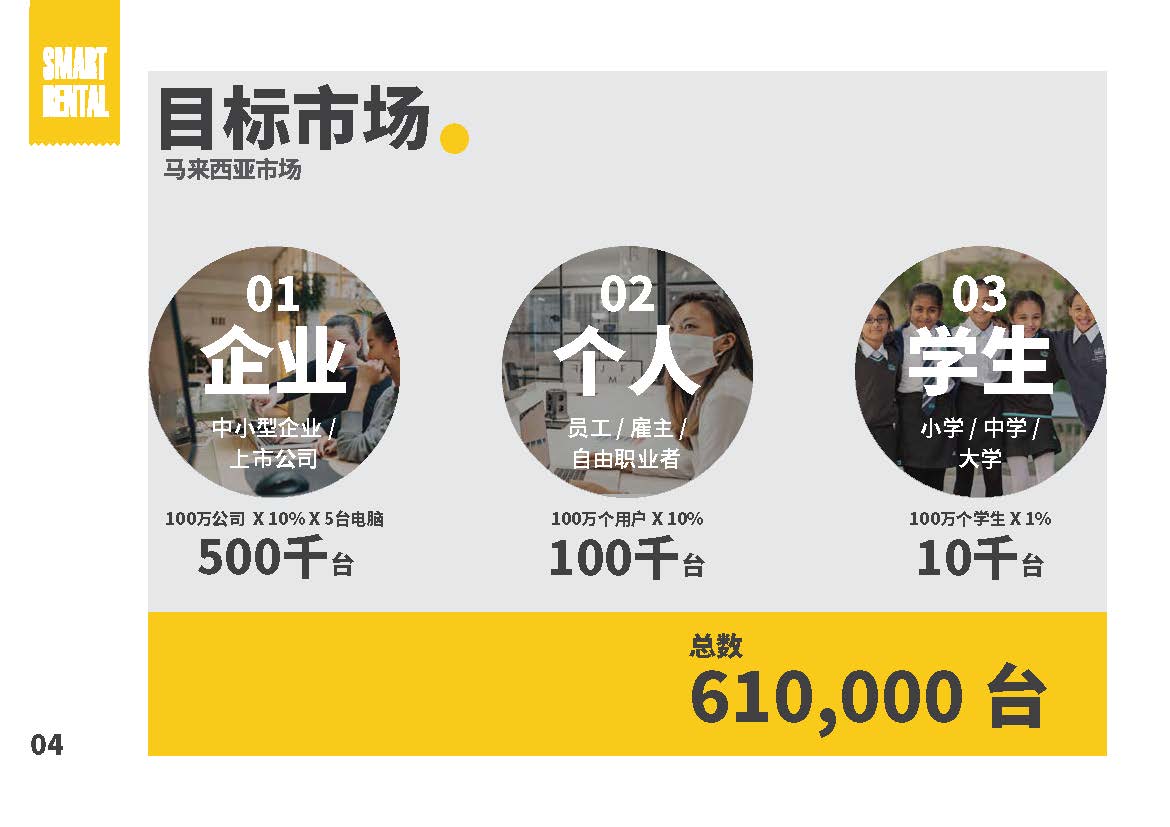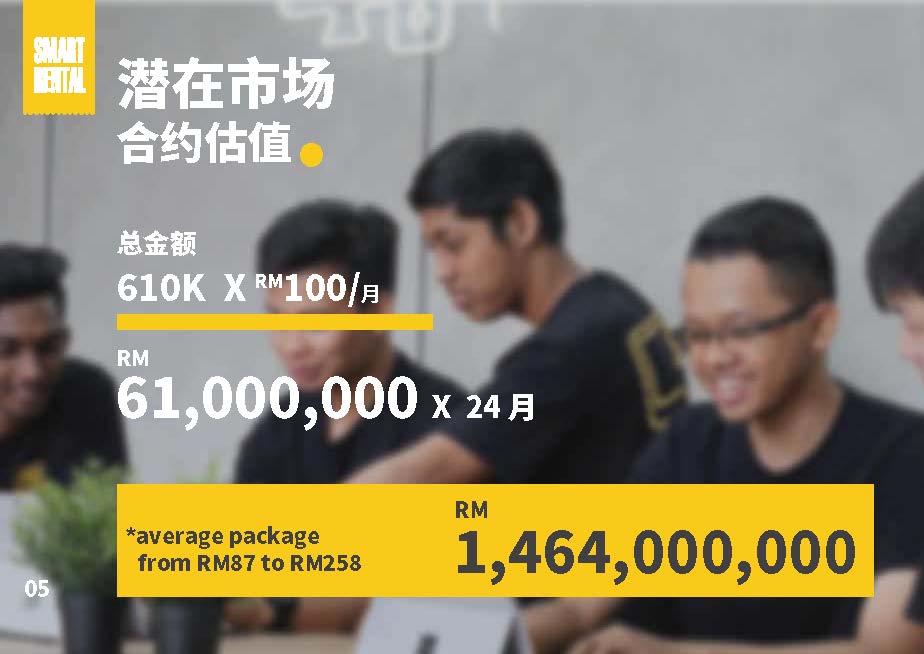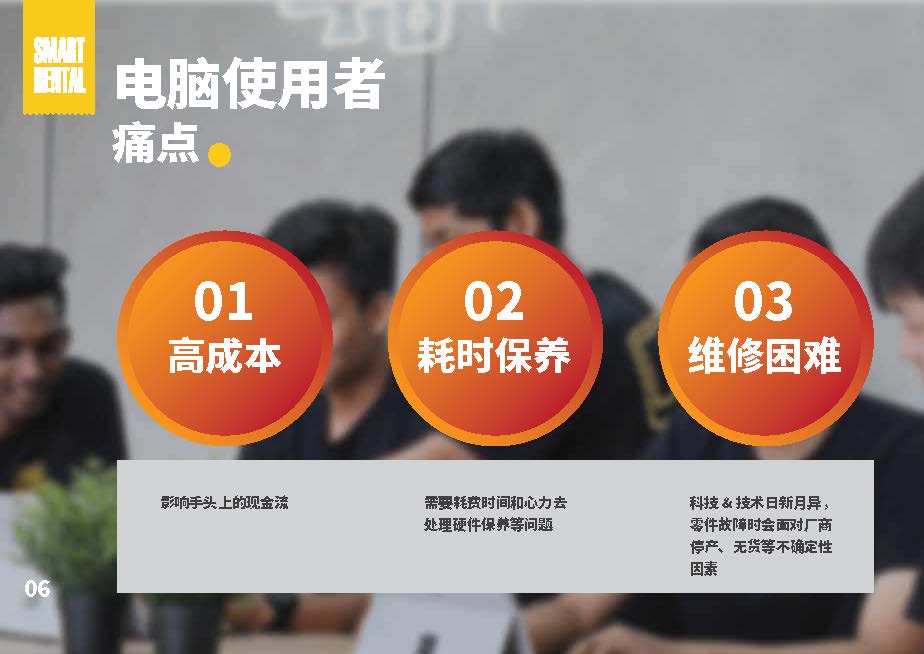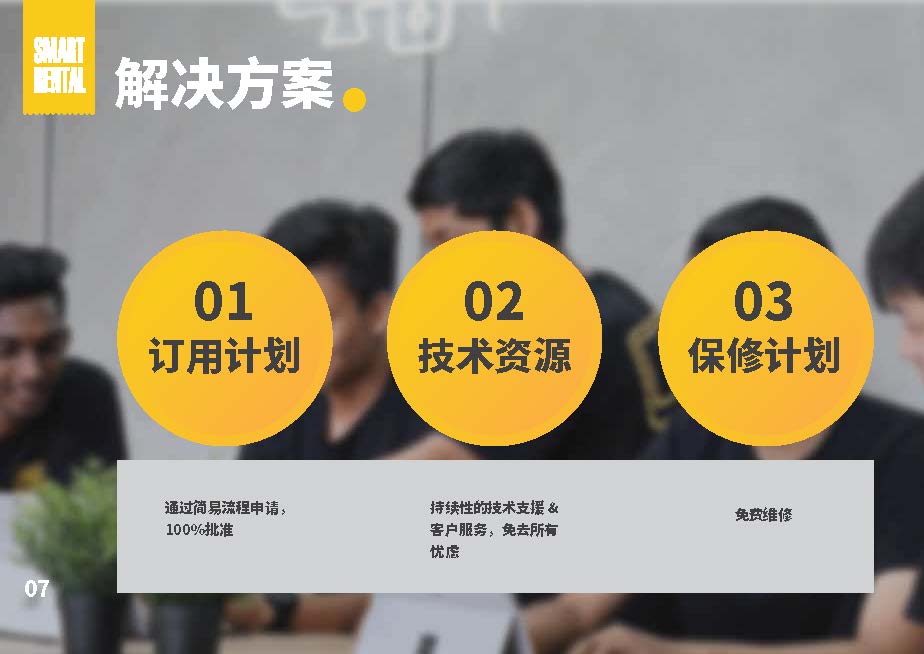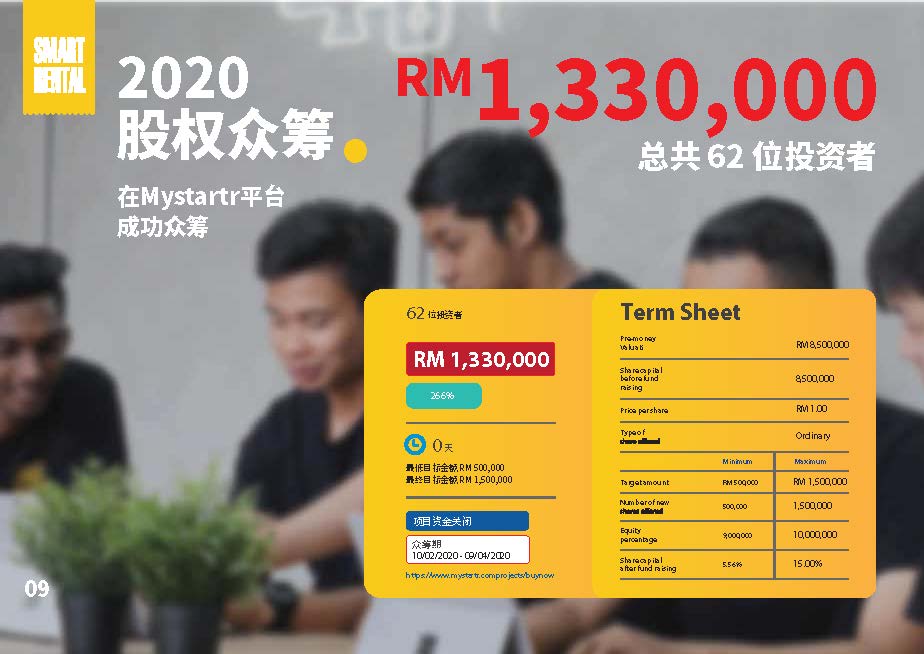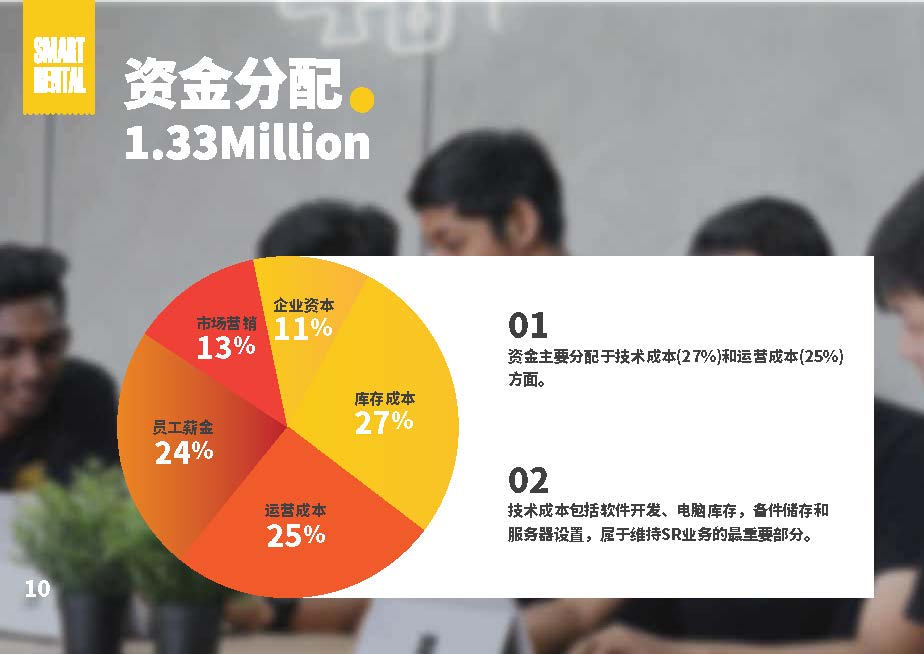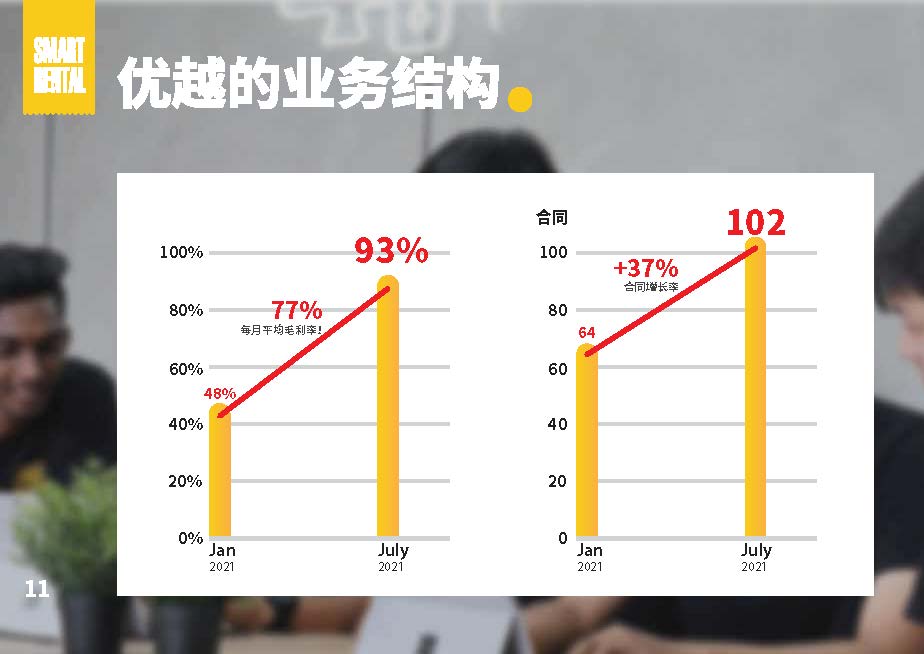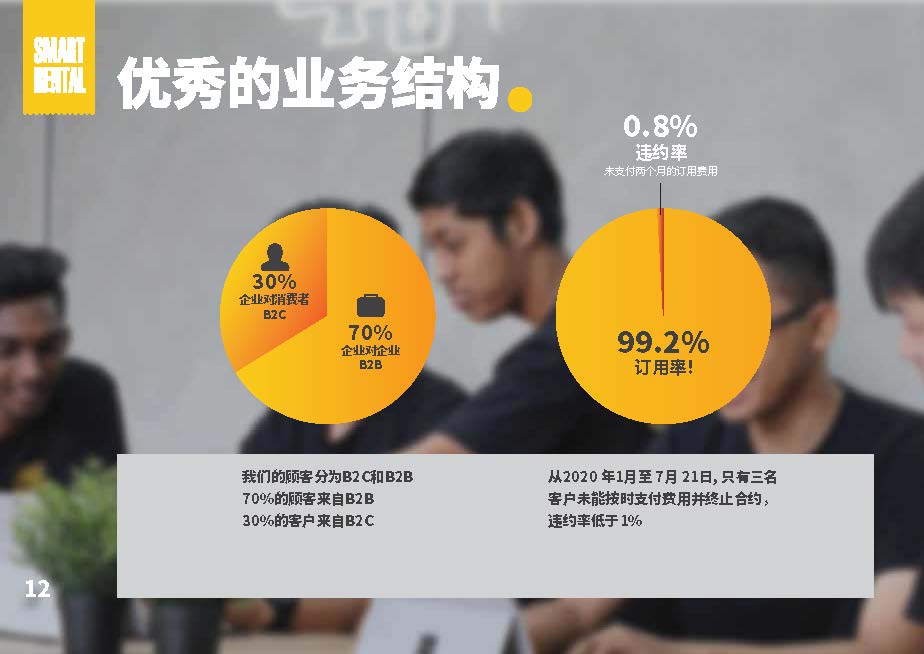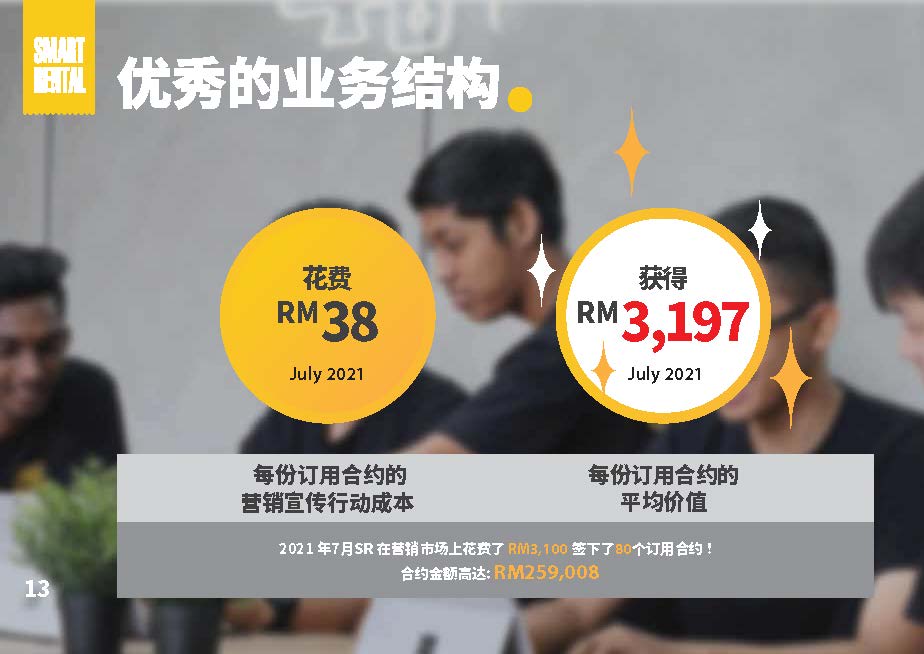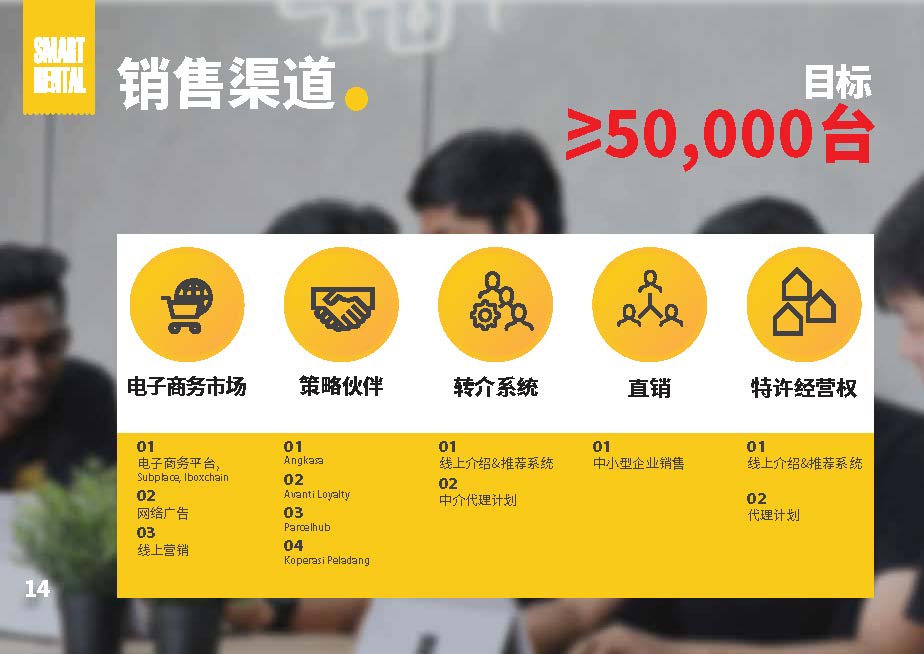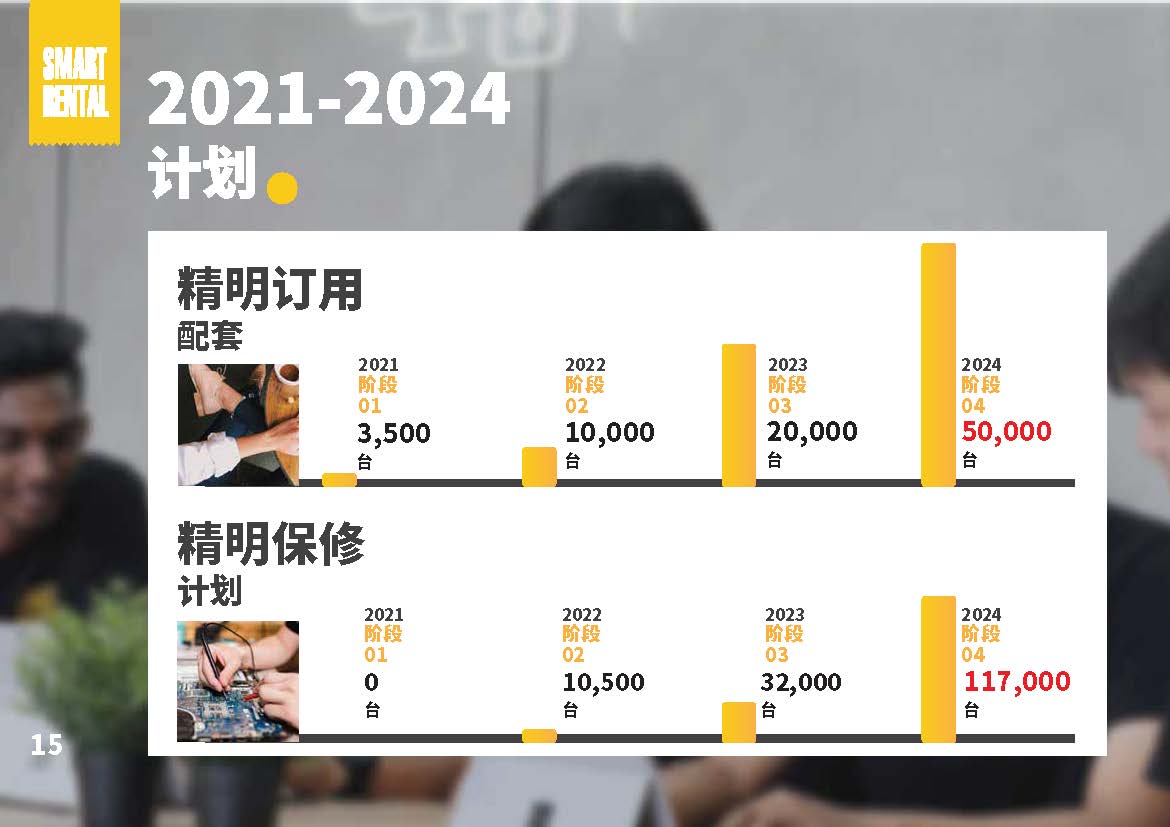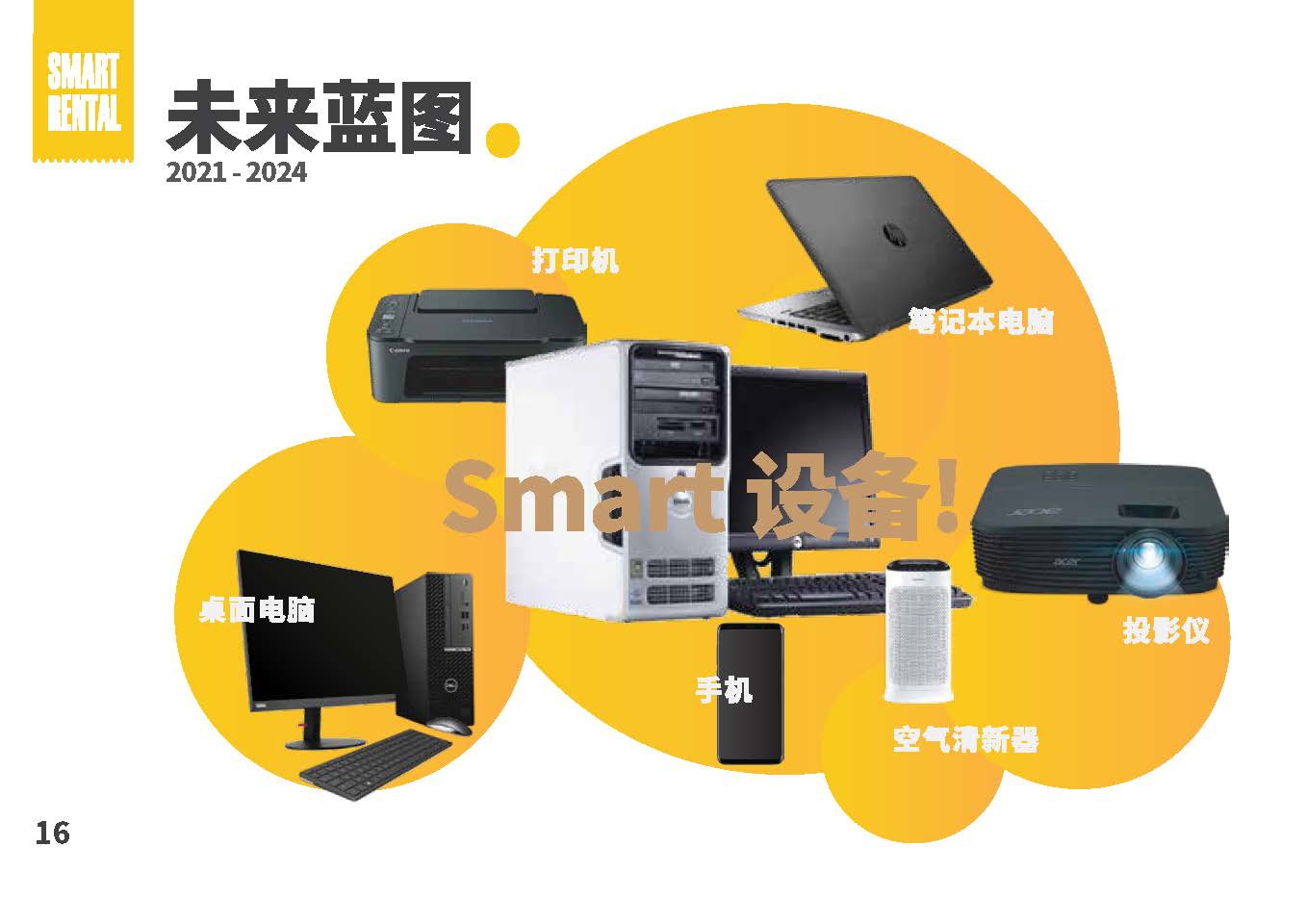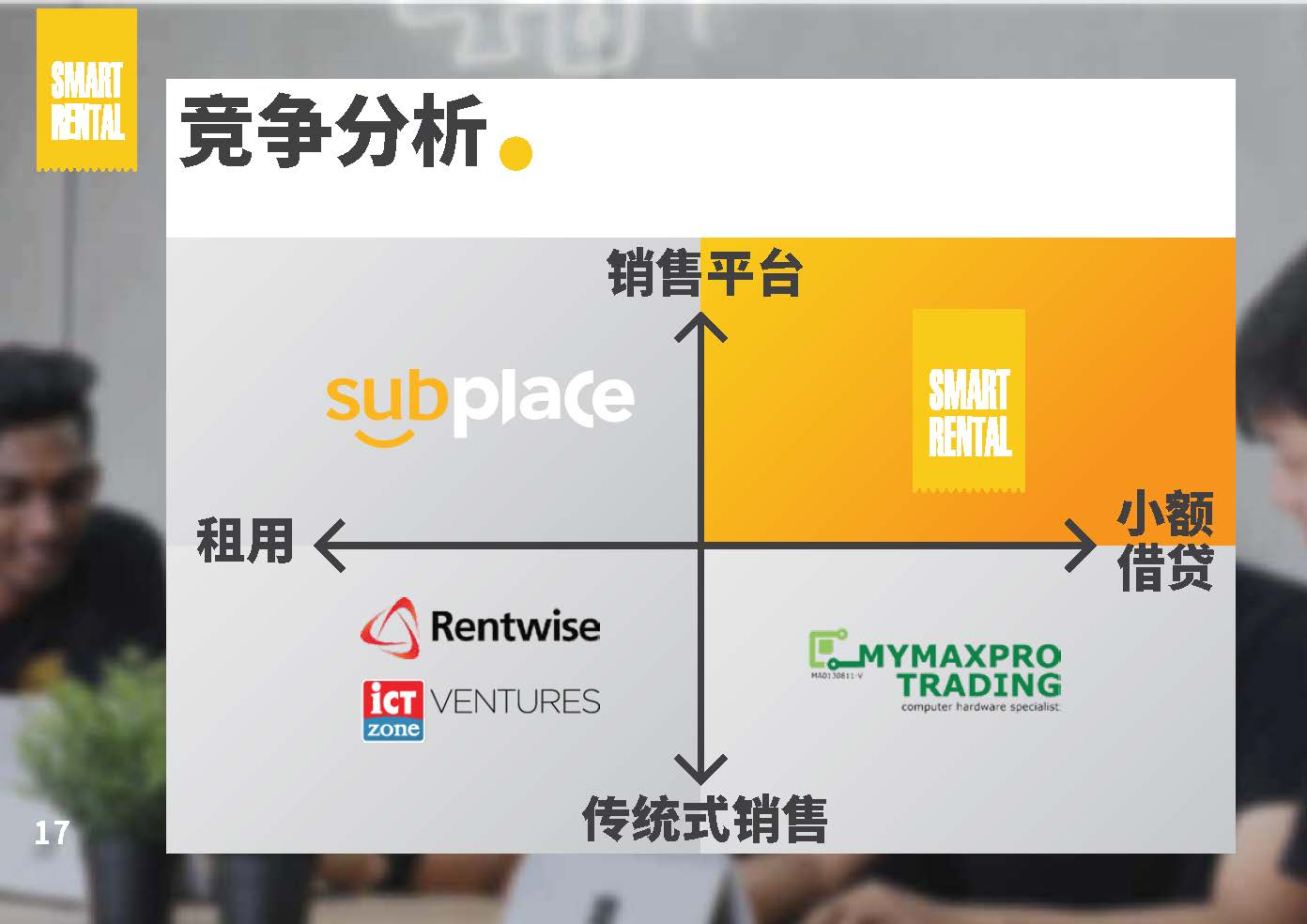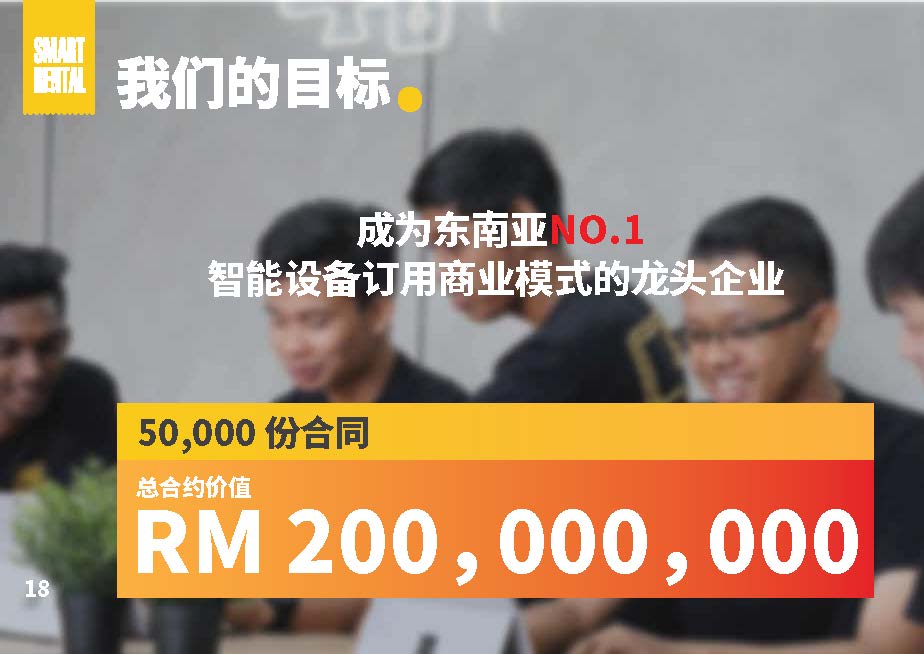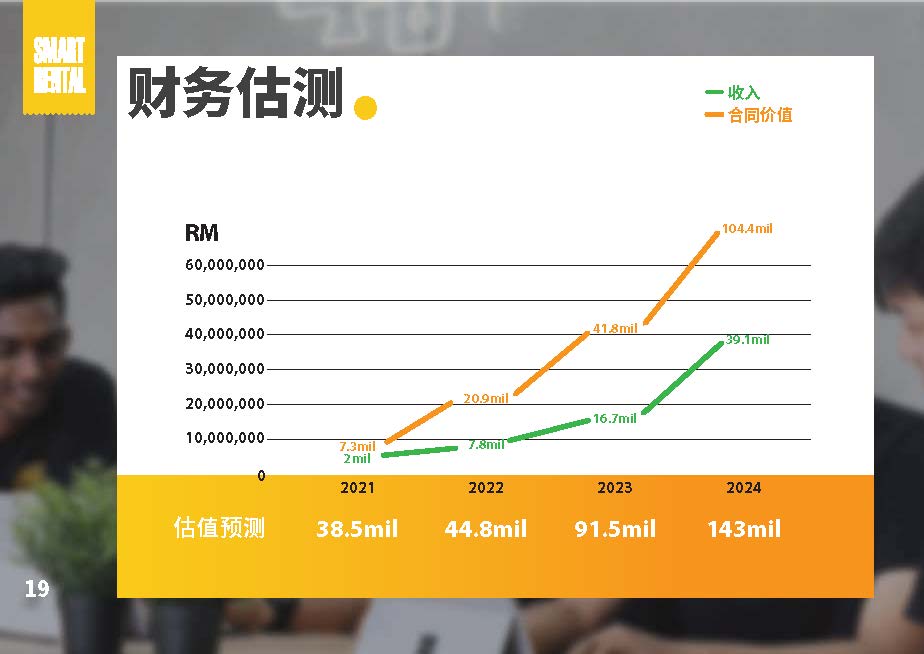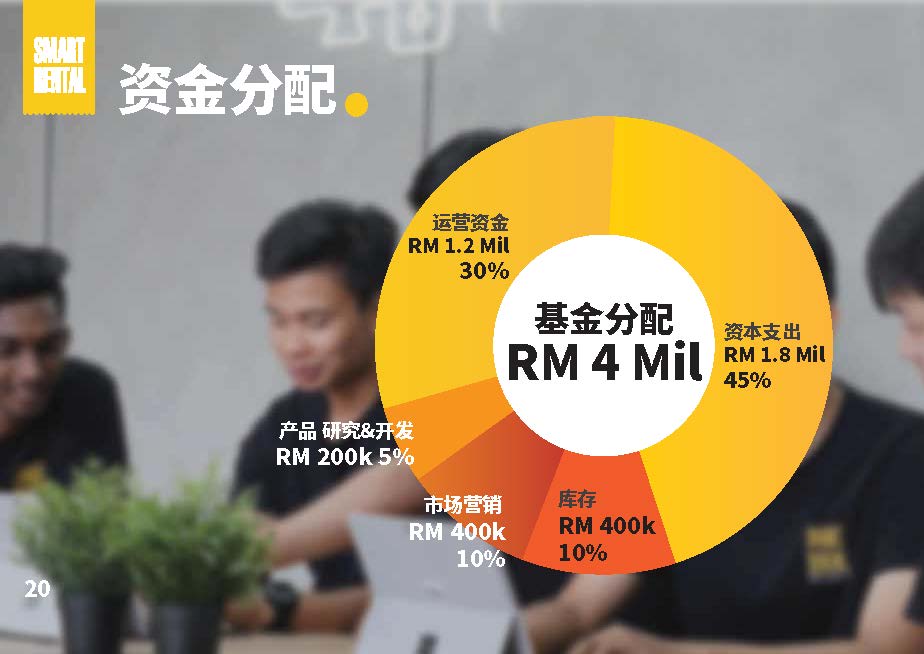 ---
欲知更多详情
请联系我们
---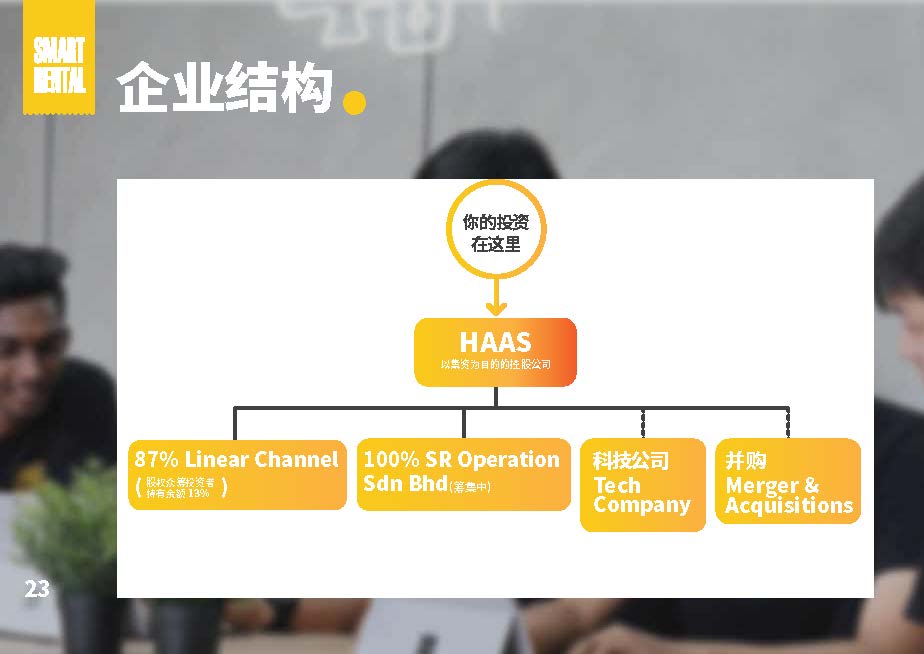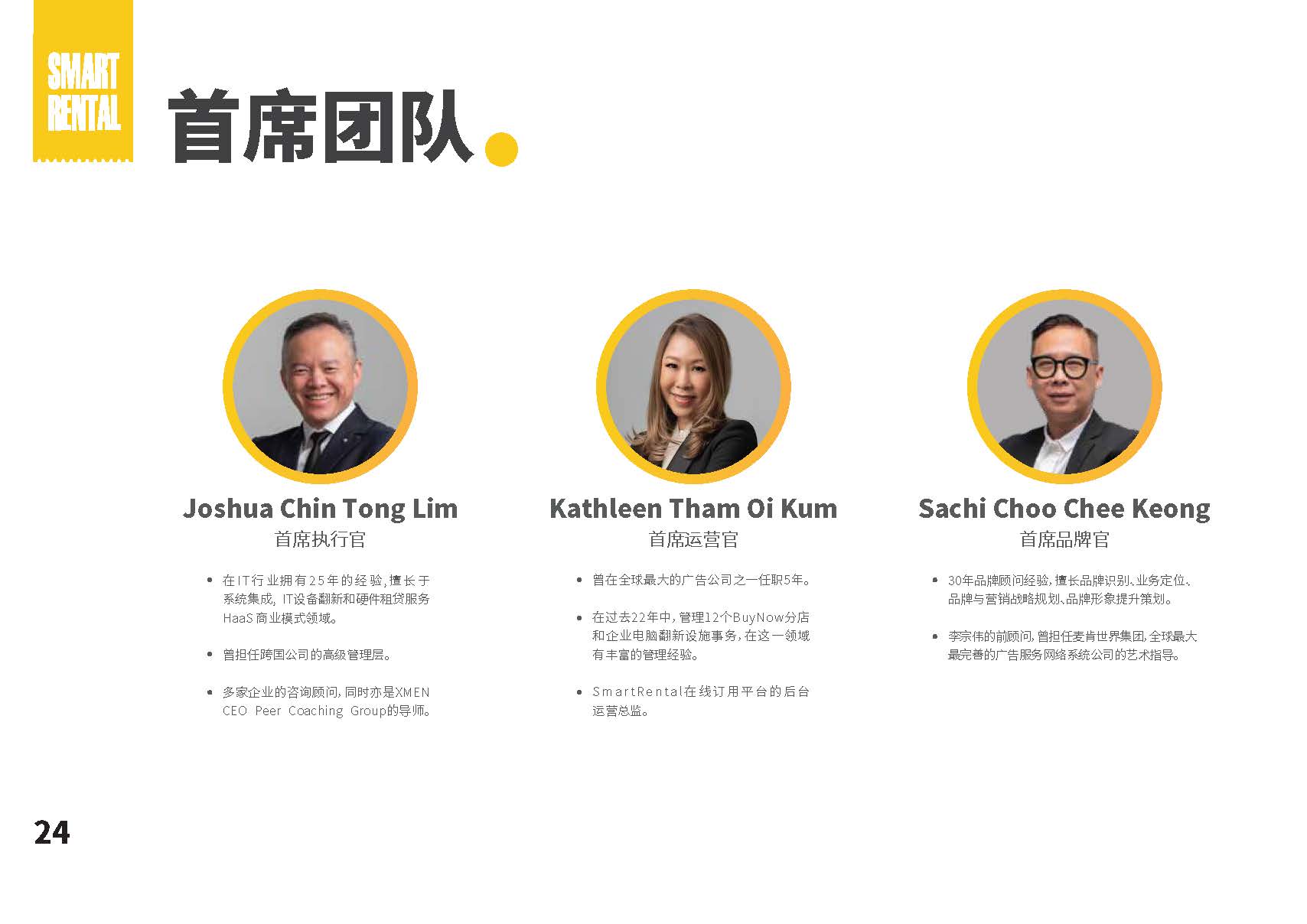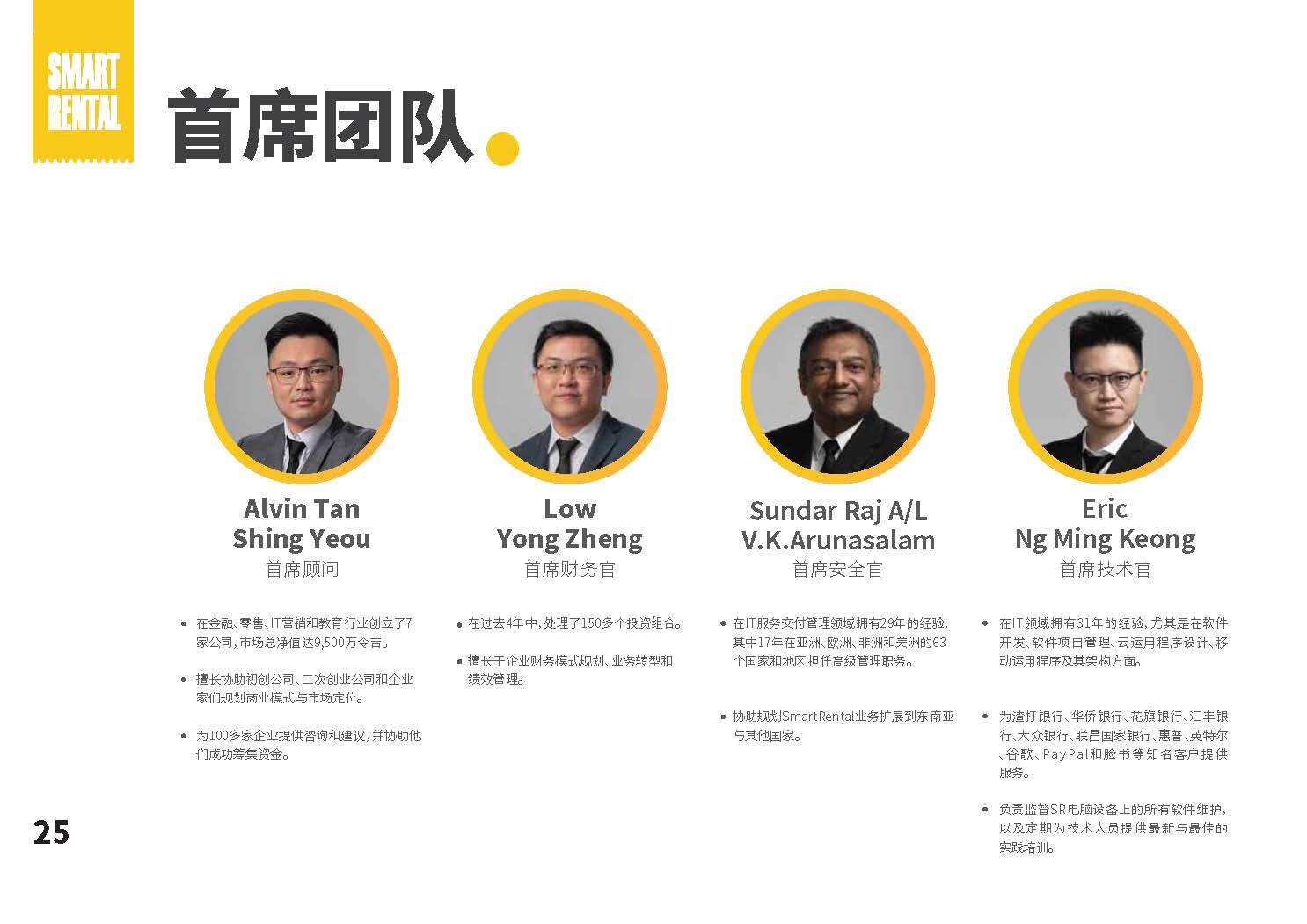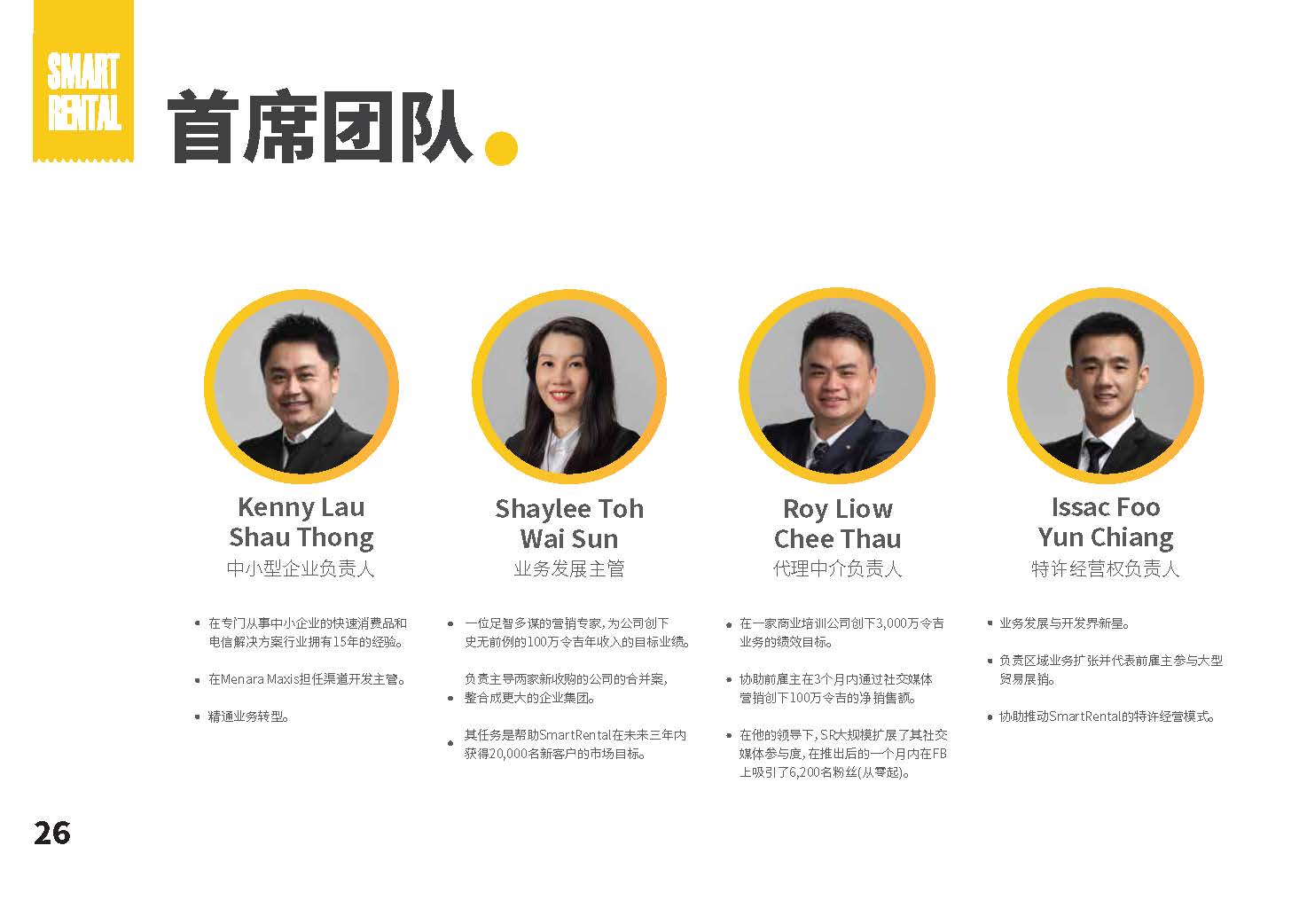 ---
欲知更多详情
请联系我们
---