Inspired by this masterpiece, Jack Kek, the artistic director of The Mythical Oriental Dance Company decided to bring the fiction onto the dance stage in Hong Kong. This full length Chinese dance production titled "Ladies of the Red Chamber", is presented by Know space and The Mythical Oriental Dance Company, to be staged at Hong Kong City Hall. The dance drama will be two choreographed which is Jack Kek and Hong Kong choreographer Chris Lam. Ladies of the Red Chamber will run at Hong Kong City Hall from 21 and 23 September at 3pm and 22 September at 8pm.
Project Outcome
Increase audience and supporters of Chinese cultural arts.
Promote collaboration between arts organization.
Promote international exchange, enhance understanding of performing arts from different countries, stimulates inspiration and creativity.
Choreographer | Jack Kek (Malaysia)
Graduated with BFA (Hon) Degree in Hong Kong Academy for Performing Arts (HKAPA), majoring in Chinese dance.
Former professional dancer in Cloud Gate 2 (Taiwan).
Jack's choreography work including Dreamin' Butterfly, It Ain't Flower, Adam & Eve, Green Snake and The Monk, For Our Parents, A Wanderer in Berlin etc.
Jack was awarded the Best Featured Performer and the Best Choreographer (in a featured length work) in the 5th BOH Cameronian Arts Awards.
In 2013, Jack established The Mythical Oriental Dance Company with the aim to promote Chinese Dance training and performances.
Currently pursuing his MFA degree in Graduate Institute of Dance, Taipei National University of the Arts, major in Choreography.
Choreographer | Chris Lam (Hong Kong)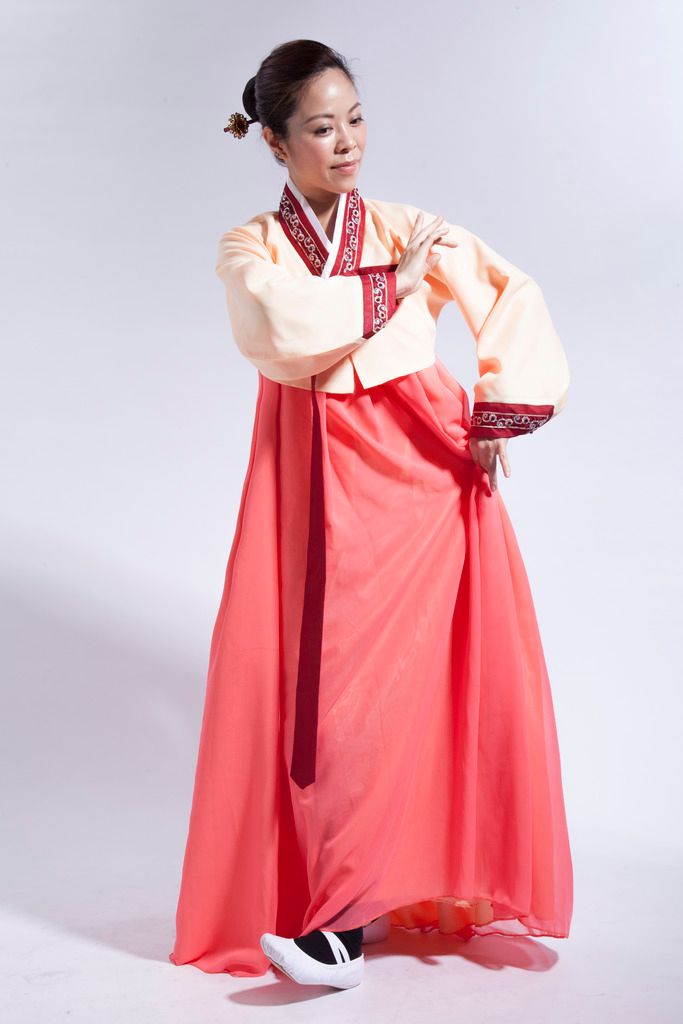 Chris Lam was graduated in Hong Kong Academy for Performing Arts majoring in Chinese Dance.
She actively involved in various major performances including the opening ceremony of 15th Asian Games in Doha and pre-opening ceremony of 29th Olympic Games in Beijing.
Chris created her first dance theatre work in 2011 , a contemporary Chinese Dance piece that illustrates different characteristics of modern women.
She is also a member of the outreach and education department for Hong Kong Dance Company.
Gu Zheng Artist | Lee Khun Chap (Hong Kong)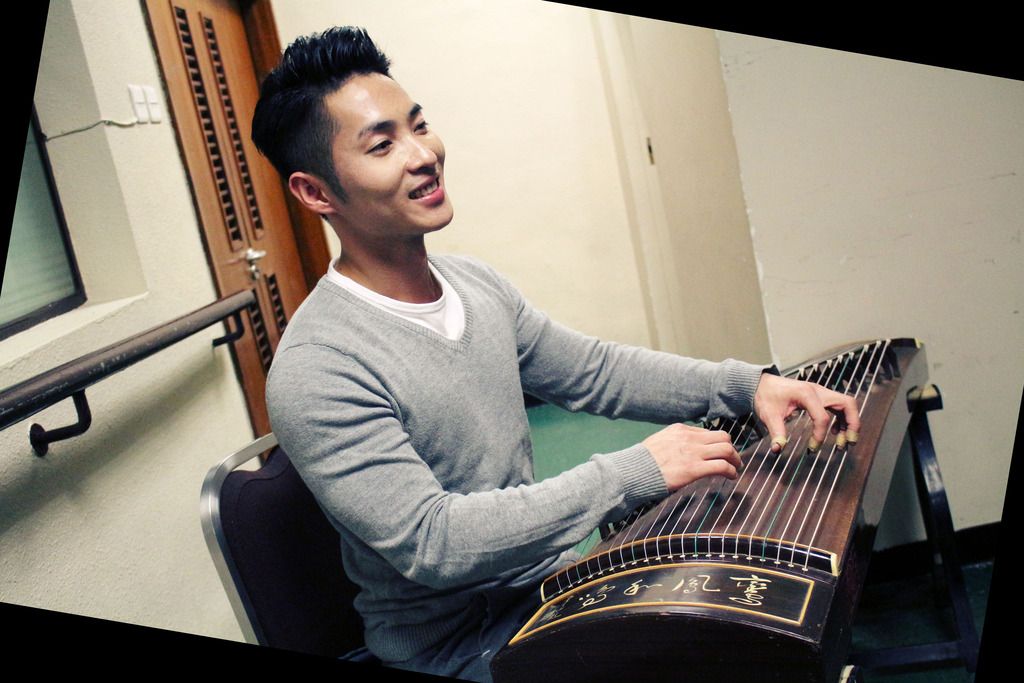 Lee is a famous young professional Guzheng performer, graduated from Hong Kong Academy for Performing Arts.
As a protégé of Professor Xu Lingzi, Lee won the HSBC scholarship to Beijing Central Conservatory of Music. He then furthered his study with Professor Zhou Wang . During his intensive study, Lee was instructed by Qinzheng Masters Zhou Yanjia ,Yao Ningxing , and Qiu Ji .
Lee actively engaged in domestic and international music performance exchanges, toured extensively across Asia, including but not limited to, Taiwan, Osaka, Tokyo, and China to participate in solo, ensemble and accompaniment. Lee made his appearance in over a hundred performances.
Armed with strong techniques and a free musical spirit, Lee performed both traditional and modern Guzheng compositions with full mastery and grace.
MODC Press Releases On Previous Production

Wind & Cloud Chinese Dance Showcase (2014)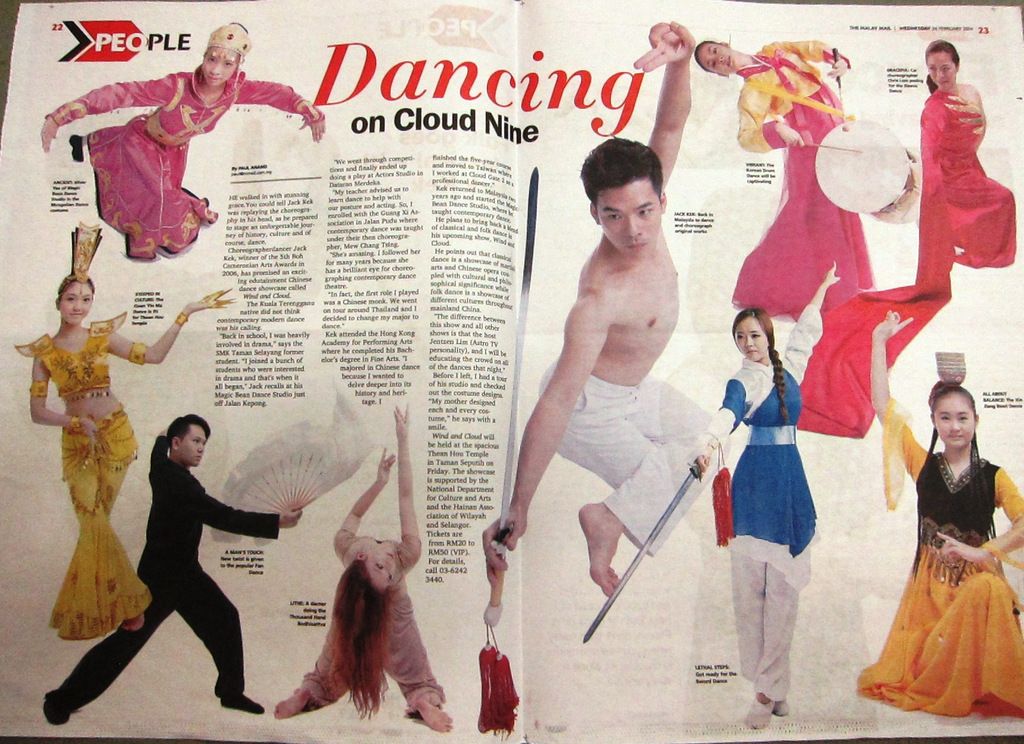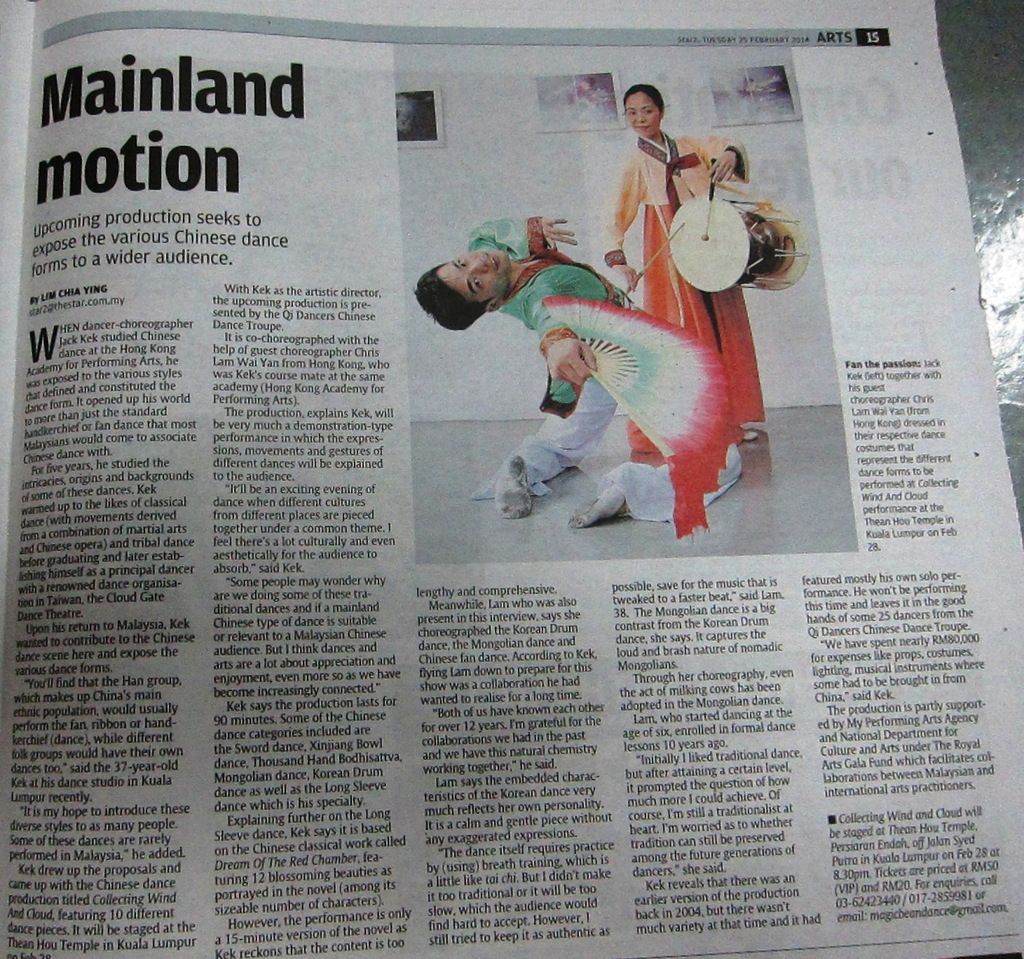 The Mythical Journey (2015)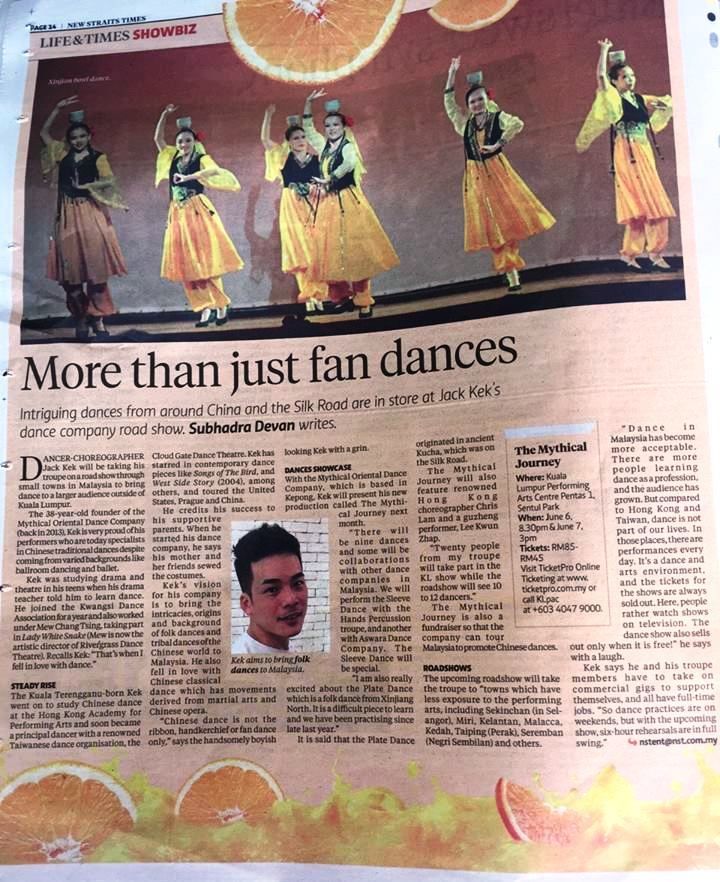 Visit https://www.facebook.com/themythicaldancecompany/?ref=settings​
or
call 014-923 4984 (Lih Wen) and 011-2007 5870 (Rainbow) for details.

因这部杰作的启发,麒舞者民族舞团艺术总监郭少麒决定将这部小说带到香港的舞台上与香港舞团-舞空间联合演出。这个中国舞蹈作品名为"红楼女士",由舞空间和麒舞者民族舞团在香港大会堂上演。这次的作品将由郭少麒编舞家和香港编舞家林慧恩联合编排。《十二金钗》将于9月21日和23日下午3点和9月22日晚上8点在香港大会堂举行。
预期效应
提升民众对中华文化的理解与珍惜,使艺术走入民间。
带动文艺风气,促进各艺术领域之间的交流合作。
促进国际交流,增进各地表演艺术之理解,激荡更多创意火花。
编舞家【郭少麒】(马来西亚)

毕业于香港演艺学院中国舞系。
曾任台湾云门舞集2专业舞者,在艺术总监林怀民的引领下,在舞团里各个不同风格的作品展现舞蹈身体。
作品《梦蝶》曾获得第五届 BOH Cameronian Awards 最佳舞者与最佳编舞。
2013年1月创办华族舞团《麒舞者》,着重于古典舞与民间舞训练,并率团制作了《风云再麒》、《麒迹》大型华族舞汇演。
现今就读于国立台北艺术大学舞蹈研究所,主修舞蹈创作。
特邀编舞家【林慧恩】(香港)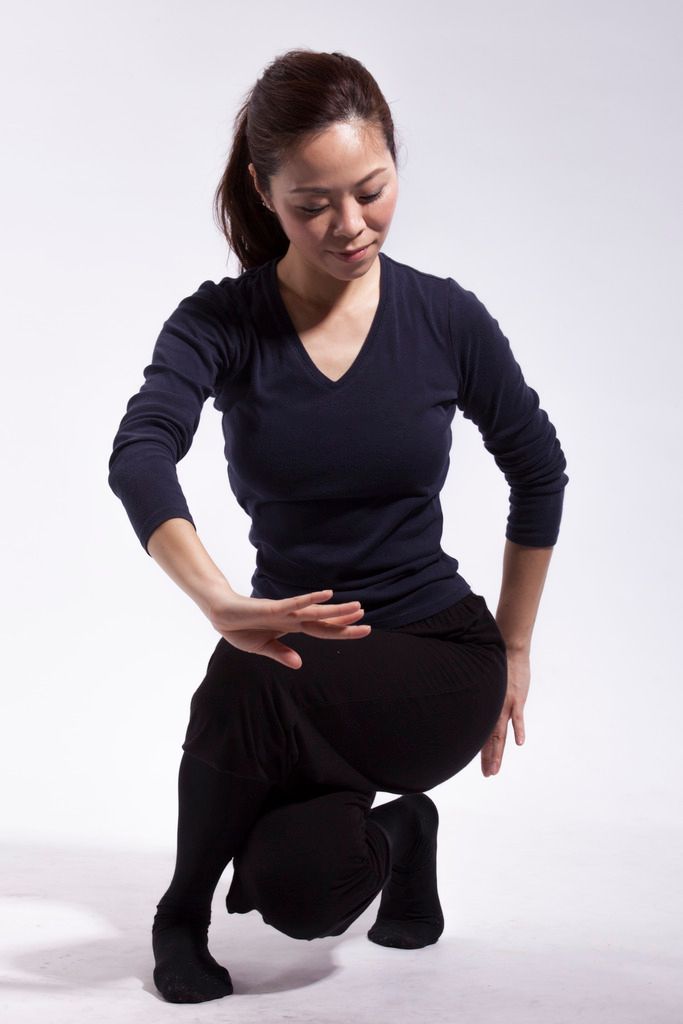 毕业于香港演艺学院,主修中国舞。1993年曾赴北京舞蹈学院进修中国民间舞。
在校期间曾参与多个大型演出,节目包括由盛培琪及梅卓燕所编导之《埋‧伏》及香港舞蹈团前艺术总监蒋华轩所编之《黄土‧黄河》等。
毕业后,致力参与各类不同之演出,包括由北京主办之全国少数民族大汇演、第十五届多哈亚运会之开幕典礼汇演。
08年,曾参与北京奥运开幕式前表演仪式。
致力推广舞蹈教育及创作,曾于2011年创作了首个舞蹈剧场《烈女图》;运用中国舞蹈的基础,赋予现代舞的手法展现时代女性的千奇百态,获得一致好评。
特邀古筝演奏家【李冠集】(香港)
著名青年古筝专业演奏家,毕业于香港演艺学院中乐系古筝专业。
师从著名国家一级演奏家许菱子教授学习古筝专业,并师从著名古琴家张敬崇副修古琴艺术。在校期间,获汇丰奖学金前往北京中央音乐学院跟随周望教授学习,并为演艺中乐团及筝团之演奏员。
多年来活跃于海内外之演奏与交流,先后任多个乐团及筝团之古筝演奏员,参与独奏,重奏,伴奏等演出过百场。
李氏掌握了五大传统古筝流派及现代高难度曲目,演奏技术全面,快速指序,双手轮指,弹轮,弹摇等现代高难度技巧都运用自如,情感细腻,风格洒脱。
【麒舞者】往年演出报导
风云再麒(2014)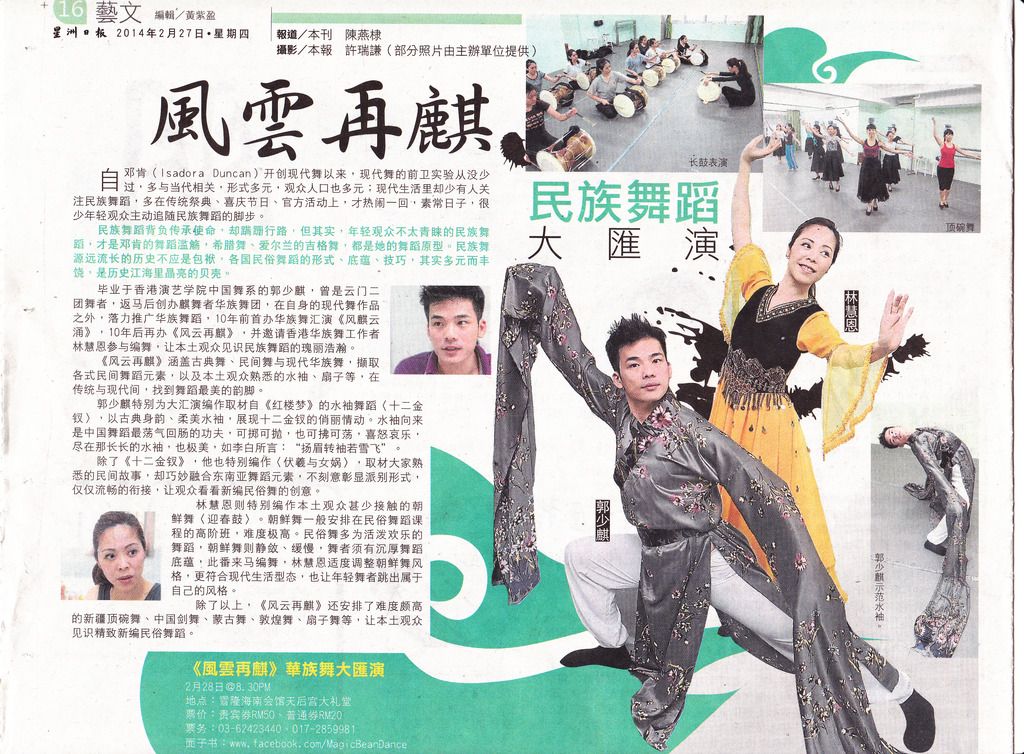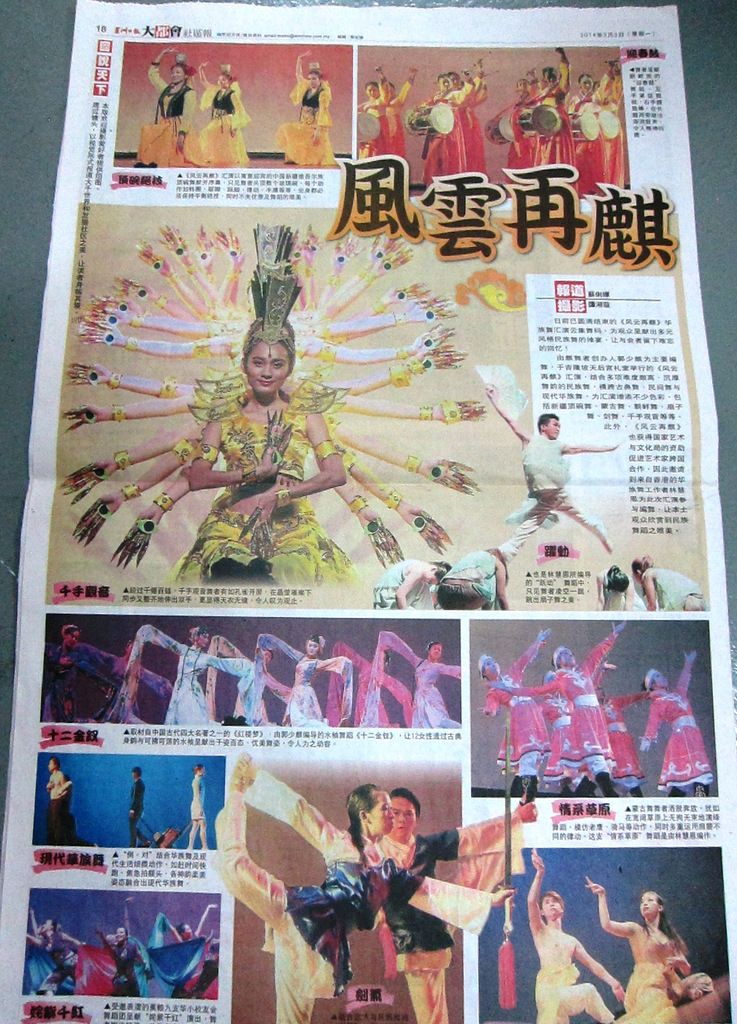 麒迹(2015)


网址https://www.facebook.com/themythicaldancecompany/?ref=settings
或
请致电014-923 4984(Lih Wen)和011-2007 5870(Rainbow)。