我是吴小山
我热爱绘画
我出生于太平,自小就对绘画产生浓厚的兴趣,使我决定踏上绘画之路。纯朴的渔村与充满生活色彩的渔船是我钟爱的题材。因此,我想把我所去过与见过的纯朴之景画成一幅又一幅的作品。
---
是我第一次个人画展的主题
寓意着让梦想扬帆而起,向美好前进。
我个人画展的起点,以"启航"做为开始。
曾经,我把我的梦想深深地理在心里,一直俳佪在那忙于生活、忙于工作却失了理想的生活里 。 如此浑浑谔谔的生活,让我对自己的梦想不再抱有希望,总想着自己的作品及梦想不会得到别人的支持及认可。
随着科技的发达facebook (脸书)成为了大家互相沟通及认识的平台。我尝试在脸书上展现自己的作品,意料之外却得到了许多的朋友、同学、亲人与大众的认可及称赞,使我重拾信。
现在的我,不再沉沦在没有方向的生活里,我想做出改变,希望可以透过努力迈向成功的航道上。不管顺风或逆风,我都会尽最大的努力划过去,穿过大浪 ,看见实现梦想的希望。我要跨过那浩瀚的大海,扬起梦想的风帆。启航……
我将以众筹的方式,筹集
我第一次个人画展的
经费。同时也希望透过众筹的平台来获得更多人关注和欣赏到我的作品。个展览我筹备了两年。如今我需要筹集资金RM5000,这笔资金主要用于场地,宣传,印刷与框架方面。具体如下:
画展场地费 RM1500
宣传费 RM1000
印刷费 RM 500
框费 RM 2000
展出日期 15/12/2018 - 15/1/2018
开幕 15/12/2018
时间 6:30pm
地点 The Refinery Art Gallery
G-13A & G-15, D7 / G-3A, D6
联系电话 012 2145515 / 0124939181
更多展出画廊详情,请点击:
https://www.timeout.com/kuala-lumpur/art-galleries/the-refinery
---
这是我的第一次个人画展
但你可能早在其他场合看过我的作品
我
的画作已在国内外展出。如:马来西亚水彩画协会和巴生艺术协会年度展览、 AATF、韩国仁川全球城市艺术展"等。

参展于
2011年 - 2018年巴生艺术学会年度展览
2012年祖国展览
2012年 - 2017年北吉打艺术协会年度展览
2012年 - 2017年仁川全球城市艺术展"韩国"
2013年KL Sketcher艺术展"自由时刻"
2013年华联艺术展
2013 KLPAC联展
2014"绿意"
2014年新7象艺术展
2014 AATF
2014年莎阿南画廊联
展
2014年霹雳艺术协会44周年艺术展
2015年2015年艺术之旅2015年水彩交响曲
2015 The Boats Trio
2015生活的乐趣
2016年马来西亚
联
展
2016水彩吉隆坡
2016我的搞笑情人节
2016年足迹
2016年恋恋槟城
2016艺途2"甲洞森林局"
2017年"HIJAU"
2017年靑岛国际(春季)艺术沙龙展 ''天色常蓝''
2017年荣获第六届庐山国际水彩艺术节三等奖
作品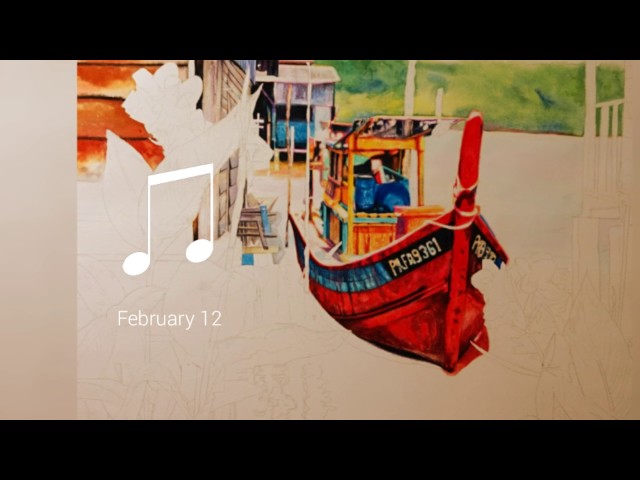 I'm Goh Siao Shan
I'm pursuing My Dream

"My Art Journey" – Goh Siao Shan, Visual Artist
My Art Journey is my first ever solo exhibition. It signifies my dream to set sail towards a truly important milestone in my artistic career. To set sail towards my lifelong passion in art has become something like coming into life for the second time.
The dream was once buried deep down inside of me, as the burden of life overtook me in all aspects. Work, personal and family commitments and other issues made me lose focus on the joy of painting at times. I feared my works would never be appreciated by others.
In recent years, with the advent of social media, I started to share my works on Facebook more frequently. Whenever I have the opportunity to paint, I would share my paintings and to my surprise, they were well received by my friends, family and the general public. The positive comments made gave me back the confidence.
After a few years of painting and participating in the local art scene, I no longer live in self-doubt. I wish to make a change for myself. Through my own sheer determination and hardwork, I have managed to accumulate enough art works to set sail for my first solo exhibition.
I have been preparing this exhibition for the past two years and in order to make it work, I intend to raise 5000 ringgit via crowdfunding to fund for the cost for venue rental, advertising and promotion materials and framing costs. Hence I hope I can gain enough funding support to achieve my dream.
The theme of my first solo exhibition centers around the fishing villages and fishing boats of Perak, where I came from. When I see the fishermen set sail, it signifies a new hope and a good beginning. I wish that too for my upcoming exhibition.
Although the wind could be against us, I will try my very best to sail across the raging storm into the right path, towards my dream destination. My journey is all set this time.
---
I will use crowdfunding to help fund my first solo exhibition
Venue rental Rm1500
Advertising and promotion material Rm1500
Framing Rm2000
Exhibition Date 15/12/2018 - 15/1/2018
Open Ceremony 15/12/2018
Time 6:30 pm
Address The Refinery Art Gallery
G-13A & G-15, D7 / G-3A, D6
Kuala Lumpur 51000
https://www.timeout.com/kuala-lumpur/art-galleries/the-refinery
Contact Number 012 2145515 / 0124939181
---
Exhibitions
Born in Taiping. My paintings have been exhibited locally and abroad. Participated in Malaysia Watercolor Society and Klang Art Society annual exhibition. AATF in Malaysia.
Incheon Global Cities Art Exhibition" Korea ".
Exhibited in 2011 - 2018 Klang Art Society Annual Exhibition
2012 Motherland Exhibition
2012 - 2017 North Kedah Art Society Annual exhibition
2012 - 2017The Incheon Global Cities Art Exhibition" KOREA"
2013 KL Sketcher Art Exhibition "Moment Of Freedom"
2013 Hua Lian Art Exhibition 2013 KLPAC Group Exhibition 2014 "HIJAU"
2014 Magnificent 7 Art Exhibition
2014 AATF
2014 Shah Alam Gallery Group Exhibition
2014 Perak Art Society 44th Anniversary Art Exhibition
2015 Art Journey 2015 Somewhere in time 2015 Watercolor Symphony
2015 The Boats Trio
2015 Joy of Life
2016 Colour of Malaysia
2016 Watercolour Kuala Lumpur 2
016 My Funny Valentine
2016 Footpaint
2016 In Love with Penang
2016 Art Journey 2 "Kepong Firm"
2017 "HIJAU"
2017 The Lake-Blue Heaven Qingdao international spring Art Salon
2017 Won the 3th prize of the 6th Lushan International Watercolor Art Festival in 2017
---
Media Coverage
TV2 :http://m.facebook.com/story.php?story_fbid=1280616658644953&id=114544091918888